4 Ways The Star Trek Franchise Is About To Change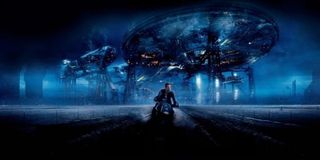 The wait is finally over. Star Trek 3 finally has a new director: Justin Lin. Lin has directed quite a few different projects, but he is probably best known for his work on the Fast and Furious franchise. It's certainly an interesting choice in director for a widely popular science fiction franchise, and with the directorial role shifting from J.J. Abrams to Lin, we're certainly in for quite a few changes.
But what exactly can we expect? We have a few thoughts…
No More Lens Flare, But Maybe Some Suped-Up Spacecraft
With the exit of JJ Abrams, we'll not only be saying farewell to the director who helped usher Star Trek into the new millennium, but we will also (most likely, anyway) be saying goodbye to Abrams' signature lens flare. Personally, I was never a big fan of the Abrams lens flare, but I'm more concerned that we will be trading an occasionally-blinding lens flare for long shots of suped-up spacecraft. Abrams' lens flare may have been annoying, but it did sort of add to the intergalactic feel of the films. Beyond hurting your eyes, the focus of lens-flared scenes was still on the characters and the dialogue. I love the Enterprise and all of the the cool space toys, but I don't want to see the focus shift from the characters and the story to, "Duuuude, check out this sick spaceship."
A Completely New Perspective On Filmmaking
Love him or hate him, Justin Lin comes from a very different school of filmmaking than J.J. Abrams, and we'll definitely be able to feel that when we watch Star Trek 3. Abrams was a pretty seasoned science fiction director, with a touch of a Spielbergian flare, directing projects like Super 8 and contributing to the TV program Lost. Lin, however, tends to migrate towards the modern blockbuster. While the contemporary Star Trek films have certainly appealed to a more widespread audience and not just fans of science fiction, Lin's directorial touch might push Star Trek 3 even further into the mainstream blockbuster realm. Of course, the film will always be about Captain Kirk (Chris Pine) leading the crew of the Enterprise to explore the final frontier, regardless of the director. However, Lin's action blockbuster directing could make the franchise feel even more like an explosive action movie, and less like an adventure through space, than the last two JJ Abrams movies already have.
A Lot More Focus On Action, A Bit Less Focus On Storytelling
The biggest complaint that fans seem to have against Lin's appointment as director is his ability to direct a heart-stopping action movie, not a thrilling, compelling science fiction adventure. Abrams Star Trek films have certainly felt quite updated and pretty different from the days when William Shatner was captain of the Enterprise, and that alone has been tough for die hard fans to swallow. With Lin on board, it is completely within the realm of possibility that the film's focus will shift even more heavily from telling the story of the Enterprise, and move towards stylized fight scenes, intense intergalactic chase scenes, and that nonstop action that we so often see in big blockbuster pictures these days. Star Trek has always had intrigue and action, but (before now, anyway) the heart of Star Trek has always been the story and the adventure, not bad-ass explosions.
A Return To What Makes Star Trek 'Star Trek' - With A Justin Lin Spin
It does seem like a strange choice to pick the dude who is best known for helming the last three installments of the Fast and Furious franchise to direct the third installment of Star Trek. However, if you take a closer peek at Lin's resume, you'll notice that he's actually done quite a lot of different projects over the course of his career, and he's brought a different flavor to each of them while adapting to the projects' individual styles. Yes, he's directed a few Fast and Furious sequels, but he's also directed several episodes of Community, and the crime drama Better Luck Tomorrow, adjusting his style for each of them. Lin is able to handle a very wide variety of projects, and handle them quite well with a compelling perspective and fresh ideas. Provided Justin Lin really understands what Star Trek is really all about, he could be a great fit.