Patton Oswalt Helped Write Monsters, Inc. And Half The Shreks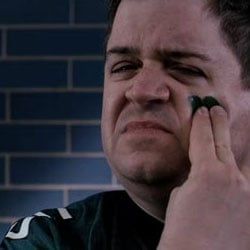 It's no secret that Patton Oswalt is a huge talent. He's killed as a stand-up, earned acclaim as a dramatic actor, and won hearts as a voice-over artist. But what we know about Patton's work may just be the tip of the iceberg. In addition to all the things you've seen and heard him doing on screen, he's secretly worked behind the scenes on a lot of the biggest movies of the past decade.
This week he appeared on Mark Marin's WTF Podcast to promote his new book Zombie, Spaceship, Wasteland and, somehow, ended up talking about his work in Hollywood as a ghost writer. A ghost writer is someone who contributes to a script, but never actually ends up being credited. Patton, with his talent for comedy and nearly encyclopedic knowledge of movies has for years now worked as part of a series of "punch up groups", the guys Hollywood calls in when they want to make something funnier but don't want to give the person who makes the funny any credit for it.
Patton has talked before about his career as a ghost writer, but I don't think I've ever heard him really go into so much depth, nor actually run down a list of some of the movies he's written without any credit. He's talked in the past about his uncredited work on Borat for instance. The screenplay only actually credits Sacha Baron Cohen, Anthony Hines, Peter Baynham, and Dan Mazer; yet Oswalt says he co-wrote some of what you saw on screen with Seth Rogen as part of a punch-up group assigned to the script before Larry Charles replaced Todd Phillips as Borat's director. Specifically Oswalt is rumored to have had a hand in the National Anthem and Driving Instructor scenes. Here's a reminder of just how hilarious the driving instructor bit was:
The next time you laugh at your girlfriend's notions of a woman's right to choose who she has sex with, think of Patton Oswalt. It might be his fault that you're spending the night on that funky couch.
Beyond his work destroying the reputation of gypsies, Patton has had things he's written appear in a lot of big movies without any credit, in particular animated movies for all the major animation studios including Pixar, DreamWorks, and Sony Pictures Animation. For instance, he says he came up with some of the things you saw in Shrek 2, Shrek 3, Monsters, Inc., and the upcoming Rango. Patton's also done a lot of work on live action comedies, in particular with the Farrelly Brothers. He willingly cops to coming up with several scenes in Shallow Hal and Jason Alexander's tail in particular. Clearly he's not making this up, nobody's claiming Shallow Hal, unless it's absolutely true.
Your Daily Blend of Entertainment News