Pete Postelthwaite, Of The Town And Inception, Dies At 64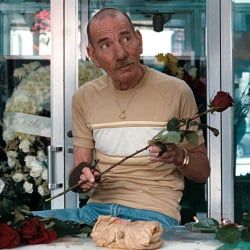 Pete Postlethwaite, the British character actor who appeared in three films in 2010 alone, has died at the age of 64, following a long fight against cancer. The death comes as a surprise to many not only because Postlethwaite was so young, but that many didn't even realize he was so sick-- in fact he was frequently in the public eye over the last year, with roles in Clash of the Titans, Inception and The Town.
Postlethwaite started his acting career in the mid-70s with British TV shows and movies, and started making his name on a larger scale in the early 90s, with small roles in Mel Gibson's Hamlet, The Last of the Mohicans and Alien 3. After gaining serious attention with his role as Daniel Day-Lewis's father in 1993's In the Name of the Father, Postlethwaite was seemingly everywhere, and there's virtually no chance you haven't seen at least one of his roles: the apothecary in Baz Luhrmann's Romeo & Juliet, Kobayashi in The Usual Suspects, his Steven Spielberg double feature of Amistad and The Lost World, and of course memorably playing Fisher's father in Inception and the florist in The Town. With his long craggy face and bulbous nose Postlethwaite was unmistakable from role to role, but he has such versatility that he believably snuck into whatever character he'd been given and brought him to life.
Postlethwaite, along with the rest of The Town cast, is currently nominated for a Broadcast Film Critics Association ensemble award. We'll likely be hearing a lot of reminiscing about the actor as both The Town and Inception make their way around the Oscar circuit, and the cast and crew on both films remember their lost colleague. If you have a favorite Postlethwaite performance, share it in the comments to remember the actor gone far too soon.
Your Daily Blend of Entertainment News
Staff Writer at CinemaBlend