Pierce Brosnan To Front Craig Ferguson-Scripted Revenge Thriller Last Man Out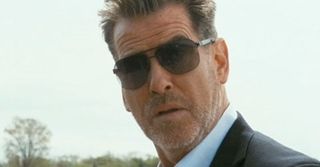 Since his time as James Bond came to an end in 2002 with Die Another Day, Pierce Brosnan has mostly moved away from action movies, instead favoring comedies like Laws of Attraction, Married Life, and Mamma Mia. But reports out of the European Film Market reveal this Irish leading man is looking to return to the world of action with the revenge thriller Last Man Out.
THR reports Brosnan is set to star as a former Irish Republican Army hitman who has had to serve 20 years in jail for murder. Upon his release, he is plagued by guilt. So, he chooses to seek revenge on his victims' behalf in order to find inner peace.
The film is inspired by Northern Irish author Stuart Neville's critically praised novel The Twelve, which has been published in the U.K., Japan, France, Spain, and the U.S., where it's known as The Ghosts of Belfast. It has been adapted by late night talk show host Craig Ferguson and The Late Late Show with Craig Ferguson writer Ted Mulkerin. While the subject matter is decidedly dark, I can't help but wonder if Ferguson and Mulkerin's script won't manage to bring a bit of humor into this thriller.
Ferguson will also produce alongside a trusted team that includes his The Late Late Show assistant Rebecca Tucker, Steve Clark-Hall who helped produce the 2000 Ferguson-vehicle Saving Grace, and Beau St. Clair who has produced a long line of Brosnan movies, including The Matador, Laws of Attraction, and The Thomas Crown Affair. Terry Loan will direct. Casting is currently under way, and production is expected to begin near the end of 2013.
Your Daily Blend of Entertainment News
Staff writer at CinemaBlend.