Pirates 5 Eyeing These Six Heartthrobs For An Important Mystery Role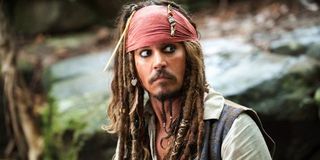 The cast of Pirates Of The Caribbean 5 is on the precipice of being expanded. Six young Hollywood heartthrobs are currently being considered for the mysterious role of Henry in the nautical adventure, which will be rolling into production in the coming months.
Obviously with Johnny Depp's involvement already confirmed it wasn't as if Pirates Of The Caribbean: Dead Men Tell No Tales was in desperate need of a beautiful face. But it now sounds as though the Edward Scissorhands star is going to have some stiff competition. According to Deadline six of the brightest and most aesthetically pleasing young actors in Hollywood are in line to join him on-board the blockbuster. But who are these dashing upstarts? Well the most famous of the bunch is probably Ansel Elgort. The 20-year-old actor starred as Augustus Waters in this past summer's hugely successful The Fault In Our Stars opposite Shailene Woodley. While his performance didn't draw as many superlatives as his co-star's, he was nonetheless still pretty impressive in the romantic heartbreaker. You can check out an image of his impressive mug below.
I suppose he is attractive in a conventional sense. But who else is vying for the part? There's also Taron Egerton, who will be soon be seen in Matthew Vaughn's upcoming adaptation of Mark Millar's Kingsman: The Secret Service, opposite Colin Firth, Samuel L. Jackson, Mark Strong and Michael Caine. Egerton is a little bit older than Elgort, but big things are still expected of him as he will follow up his role in Kingsman with performances in the war drama Testament Of Youth and Brian Helgeland's period thriller Legend. Here's a pic of him from Kingsman: The Secret Service. He's not the one who is clearly Colin Firth.
There are four other actors in contention for Pirates Of The Caribbean 5's Henry too. Pride's George MacKay, Maleficent's Brenton Thwaites, Sam Keeley from In The Heart Of The Sea, and Descendant's Mitchell Hope are all currently being considered as well. You can check out a collaged image of the foursome, with McKay in the top left, Thwaites in the top right, Keely bottom left and Hope bottom right, below.
It's currently unknown who out of this sextet of thespians is the frontrunner for the role, but you can be rest assured that whoever is chosen to star in Joachim Ronning and Espen Sandberg's blockbuster will immediately be labelled as Hollywood's next big thing/the new Orlando Bloom when they are cast.
Your Daily Blend of Entertainment News
Thank you for signing up to CinemaBlend. You will receive a verification email shortly.
There was a problem. Please refresh the page and try again.