Pirates Of The Caribbean 5 Might Reboot The Franchise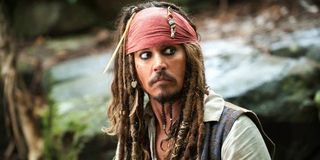 The fifth installment to the Pirates of the Caribbean franchise has been lost in murky water for quite some time. But Orlando Bloom has now provided an update that suggests that it might be heading back to safer shores. The original trilogy star has remarked that Pirates of the Caribbean: Dead Men Tell No Tales could be a reboot of the adventure franchise.
Orlando Bloom, who starred as Will Turner in the first three installments to the nautical franchise, made the comments to IGN while promoting The Hobbit: Battle of the Five Armies. Bloom noted that he is currently in talks with Disney to return as his character. However, he admitted that he hasn't actually signed on the dotted line just yet because he is still a tad perplexed by the premise. Said the actor,
It would make sense for Pirates of the Caribbean franchise to have a light reboot. While 2011's On Stranger Tides was the franchise's most successful installment to date, it was met with a tidal wave of criticism by viewers and critics alike. The series was actually much more appreciated when it had Keira Knightley and Orlando Bloom on-board. That said, it appears unlikely that Knightley will return as willingly as Bloom, since she has mainly focused on independent fare since her work in 2007's Pirates of the Caribbean: Dead Man's Chest. This could mean that Bloom's Will Turner will be lovelorn after leaving Elizabeth, who, if Knightley decides not to return, might have died while he was away. Will Turner would then have to focus his attention on raising their son to be a loveable and trustworthy pirate, stopping him from turning into a watery rogue like many others, thus giving the franchise some new direction.
Either way it will be good to have Orlando Bloom back in the franchise. In 2003's The Curse of the Black Pearl (which was a rather astonishing action blockbuster at its time), Bloom proved to be a more than capable leading man. Of course, he was always set up to be eclipsed by Johnny Depp's eccentric performance as the rapscallion pirate Captain Jack Sparrow. But that was only because Orlando Bloom played the dashing, rather mundane lead who the audience could relate to while Depp would pop up and keep everyone entertained with his perplexing antics.
Unfortunately, after Pirates of the Caribbean: The Curse of the Black Pearl's success, which saw it amass $654 million across the world, was attributed solely to Johnny Depp's eccentric performance, Orlando Bloom was relegated to the backseat. Both Pirates of the Caribbean: Dead Man's Chest and Pirates of Caribbean: At World's End, which were shot back to back, promoted Johnny Depp to the lead. However, this only led to both of the films being completely lopsided, and it was almost impossible to resonate or keep track of either plots because of Johnny Depp's peculiar portrayal. But Disney couldn't have cared less because both Dead Man's Chest and At World's End exponentially added to the franchise's success. Dead Man's Chest actually became the fastest film to gross over $1 billion at the time of its release, and it ended up amassing $1.06 billion. Meanwhile, At World's End took in $963.4 million one year later.
It was soon concluded that Orlando Bloom wasn't needed for the fourth Pirates of the Caribbean film, 2011's On Stranger Tides, with Penelope Cruz and Ian McShane joining Johnny Depp for the adventure this time round. It's currently believed that Dead Men Tell No Tales will now star Javier Bardem as the blockbuster's villain opposite Johnny Depp. If Orlando Bloom does decide to reappear, then it should make for an intriguing on-screen combination. Pirates of the Caribbean: Dead Men Tell No Tales is currently set to be released on July 7, 2017.
Your Daily Blend of Entertainment News