Pixar Could Be Working On A Musical, According To Randy Newman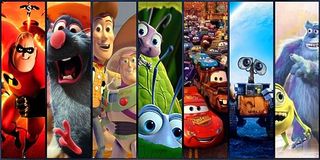 Could it be that Pixar Animation Studios is cooking up what would be its first proper feature length musical project? Well, according to a former repertory singer/songwriter for the groundbreaking auteurs of digital animation, Randy Newman, that does seem to be the case. If true, then it is possible that, given what Pixar has lined up, that the musical in question may be a long-discussed project about Mexico's undead happy holiday, Día de los Muertos.
In a radio interview on Classic FM's "Saturday Night at the Movies" (transcripted by Film Divider), Randy Newman discussed the status of his famous, lengthy tenure providing songs for Pixar. Apparently, it's quite acrimonious at the moment, due to creative differences between Newman and longtime Pixar director Lee Unkrich. It seems that Pixar is taking Unkrich's side in the apparent dispute, as Newman claims that his work on 2010's Toy Story 3 was tumultuous enough of an experience with Unkrich that it would be his last collaboration with the director. However, in discussing that feud, Newman actually dropped what may very well be a tidbit of news on the alleged Pixar musical project. As Newman states of his future with Unkrich:
That, unfortunately, is about the extent of the insight that Newman would provide about future Pixar projects; especially seeing as he is currently not associated with the director who once helped amplify his distinctive voice. However, as minute it was, the statement might have provided an important clue that may help us deduce which of the projects Pixar has planned will be the musical feature in question.
Pixar currently has the next two years mapped out with releases such as Inside Out (2015), The Good Dinosaur (2015), Finding Dory (2016) and Toy Story 4 (2017). While it's possible that the musical feature could be one of two yet-to-be-named projects that are currently dated for late 2017 and mid 2018, the one which sticks out the most as a likely candidate is an undated, long-discussed film said to be about Día de los Muertos, the Mexican day of the dead.
The project was first announced officially back in 2012 at the CinemaCon trade show, issuing the following statement:
While seemingly analogous to Halloween, where people are traditionally made to placate the monsters knocking on their doors with treats to avoid harm, Día de los Muertos is more of a straightforward tradition of honoring the dead. The holiday dates back to pre-Columbian era Aztec observances speculated to go back as long as 3,000 years ago. However, despite the seemingly morbid traditions fixated on skeletons and grave-ready flowers, it is a light-hearted celebration of ancestors who have long passed and is filled with a great deal of music and festivity.
Exactly how the Día de los Muertos holiday will be portrayed within a Pixar animated film is unclear at this moment, but Unkrich has said in the past that it would teach the lesson that "death is a part of life." Yes, it seems that Pixar could have one of its jovial characters singing "Let it Go" for an entirely different reason than Frozen's Elsa.
The project could present an opportunity to break cultural barriers while giving us an innovate aesthetic that could possibly improve upon the gothic, Tim Burton-esque style we saw in The Nightmare Before Christmas. We'll just have to wait and see if that's the case.
Your Daily Blend of Entertainment News