Pixar's Inside Out Puppy Bowl Trailer Wins The Prize For Most Adorable Clip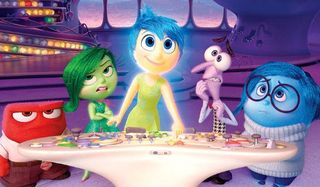 What if I told you that the latest trailer for Pixar's Inside Out actually manages to piss on the movie? (/Morpheus-voice) Well, I'd be telling you the truth…kind of. The animated extravaganza recently dropped a demographic-appropriate new short clip yesterday during the Puppy Bowl, briefly showcasing the film along with footage of a multitude of - you guessed it - puppies. It's an artfully thrown-together montage of mutts that is akin to a French avant-garde film about the inner turmoil of the mind… with cute puppies.
Desecration of the Puppy Bowl's 45 yard line aside, this new clip from Inside Out only further displays the film's wacky collection of characters of consciousness representing the various emotional states. The Pixar movie focuses on a young Midwest girl named Riley (Kaitlyn Dias) who is finding herself riddled with angst as her family moves from their home in the Midwest to San Francisco . While it's difficult to understand the mentality of children, Inside Out breaks down this curious concept with representations of the various feelings of each of the characters. Within Riley's mid they are represented by an all-star team of comedic voice talent, incuding Amy Poehler as Joy, Mindy Kaling as Disgust, Phyllis Smith as Sadness, Bill Hader as Fear, and Anger, incredibly-appropriately cast with Lewis Black. While the puppy bowl clip is more about highlighting the ideas in the movie rather thant the plot itself, we would highly recommend watching the previously releasedtrailer for more substantive reference.
Inside Out has a rather complex and original concept, but that's honestly what we've really come to expect from Pixar's excellent, Academy Award-winning history. The Pixar brand introduced itself to the world with the Toy Story franchise in 1995 and quickly proved that it had a lot more to its repertoire than showing children colorful characters that subliminally make them bug their parents into submission to buy their merchandise. In fact, as we would learn with 2009's Up they can carry through their brand of fast-paced optimism while also wielding powerful pathos that's heavy enough to make grown men cry. (…Not that I cried during Up. – Shut up!) Now, the $8.5 billion-generating fiction factory returns with a fascinating concept exploring the inner workings of the minds of what seems to be a normal American family. (Although the early 1990's Fox TV sitcom, Herman's Head might have something to say about its originality.)
Walt Disney and Pixar's Inside Out will take a complex psychological journey across the vast and mysterious expanse that is the human psyche....with jovially colorful characters when it hits theaters on June 19th – Sans puppy piss.
Your Daily Blend of Entertainment News