Pixar's The Good Dinosaur Got Rid Of Almost Its Entire Voice Cast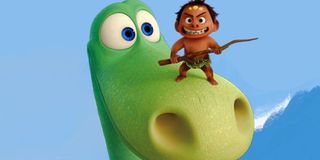 It's been known for quite some time that Pixar's upcoming The Good Dinosaur experienced a bevy of behind-the-scenes creative clashes. The studio made an abrupt director swap and overhauled the entire script, creating delays that cost the film its original 2014 release window. In the latest development, it has been revealed that the extent of its changes went even further, replacing nearly every member of its voice cast.
According to an official reveal, the voice cast that we knew of The Good Dinosaur is now as extinct as the film's titular clade. Save for Frances McDormand, the vocal performances that previously included Lucas Neff, Neil Patrick Harris, John Lithgow, Bill Hader, and Judy Greer have been nixed. It's actually a rather shocking revelation, especially considering that, apparently without this critical piece of context, the film's debut teaser trailer hit just one week ago.
As of now, the official cast for The Good Dinosaur centers on 13-year-old Raymond Ochoa, replacing Lucas Neff as the film's 70-foot-long Apatosaurus protagonist named Arlo. Coming from a quartet of brothers who are also working actors, Ochoa has made a number of live-action television appearances on shows like The Night Shift and Rizzoli & Isles. He is primarily known for voice work in notable animated features like Monsters University, Mars Needs Moms, and Disney's A Christmas Carol, however, this role as the titular character in a major Pixar feature is clearly a step up in noteworthiness.
Filling out the rest of the cast, we have Jeffrey Wright as Poppa, Arlo's father, Anna Paquin as a T-Rex named Ramsey, Sam Elliott as a T-Rex named Butch, Steve Zahn as a pterodactyl named Thunderclap, AJ Buckley as a T-Rex named Nash, Marcus Scribner as Arlo's brother Buck, and Jack Bright as Arlo's adopted human pet/friend, Spot. Additionally, in what appears to be the only remaining original cast member, Frances McDormand voices Arlo's mother.
This surprising cast replacement seems to be the culmination of what was a creative crisis at Pixar over The Good Dinosaur that saw previous director Bob Peterson removed, later replaced by current director Peter Sohn. Yet the project also proved to be exceptionally difficult for a number of big brass at Pixar, rendering it somewhat of a hot potato, passed around from one creative maestro to the next. In fact, the delays were so egregious that the deferment of its 2014 date caused the studio to actually sit out a whole year without a new release; something that they had not done since 2005.
Based on what was said last year by now-former cast member John Lithgow, the script went from simple alterations to the point of being rewritten entirely, requiring the voice cast to re-record their performances. How little did we know. In fact, Lithgow seemed to have every intention on returning to voice what he called a "completely reimagined" story and even expressed excitement over the new, completely altered script. Today's reveal confirms that these encore performances never came to fruition.
Of course, Pixar has every intention making up for their 2014 inertia, starting with the buzz-worthy, psychologically satirical journey into the mind of a young girl, Inside Out, which hits theaters next week on June 19. Five short months later, The Good Dinosaur looks to prove the old adage, "better late than never," when their hypothetical world of extinction-avoiding dinosaurs hits theaters on November 25.
Your Daily Blend of Entertainment News