This GoDaddy Commercial About A Puppy Is Infuriating The Internet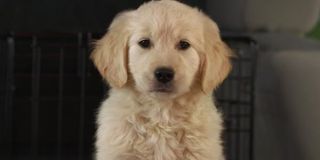 GoDaddy commercials are frequently cheeky, but the ad domain register company may have taken things a little far with its parody of last year's Budweiser Super Bowl ad. The new Super Bowl commercial, which does feature an adorable puppy, caused some controversy on the internet this morning, and has just been pulled.
Here's the basic gist. A puppy accidentally falls off of the back of a truck on a bumpy road. We see his journey along dirt roads and paved roads and through good and bad weather until he finally reaches a destination: the picturesque farm he hailed from. Sounds pretty cute, right? However, there's a twist. When the puppy reaches home, his owner picks him up and explains how she's happy he's home, because she has just sold him on the website she put together thanks to GoDaddy.
It's supposed to be a joke, but people are not amused. In fact, Today did a whole segment on the commercial this morning, noting that some people wrote in and were not happy with the "puppy mill" antics shown in the new GoDaddy ad. It's not like the company has shied away from controversial ads in the past, however. GoDaddy has had some pretty risqué and out-there ads during its history. Last year's ad, for instance, notoriously featured Bar Rafaeli making out with some nerdy dude in one of the most awkward TV moments in recent memory.
The latest ad is a smirk-worthy take on the super sentimental Budweiser commercial that aired last year, featuring a puppy making its way home to spend time with his Clydesdale pals.
That commercial makes you think "aww." The commercial from GoDaddy makes you think "aw naw," but even if it's not the most tasteful, the point is clearly to promote the service, not to promote puppy mills.
While it may not be in the best of taste, neither was that Rafaeli ad or all of those ads—including this one with Danica Patrick—featuring a scantily clad woman dancing. Clearly, these sorts of advertisements are doing big business for the domain company, or they wouldn't be shelling out millions of dollars for the ads to air during the Super Bowl. Check out the ad today, or catch it when it airs during Super Bowl XLIX on Sunday, February 1 at 6:30 p.m. ET.
Update: A short while after this story ran with the commercial, GoDaddy made the commercial private. Guess their executives weren't stoked about the puppy mill connection, either.
Reality TV fan with a pinch of Disney fairy dust thrown in. Theme park junkie. If you've created a rom-com I've probably watched it.
Your Daily Blend of Entertainment News
Thank you for signing up to CinemaBlend. You will receive a verification email shortly.
There was a problem. Please refresh the page and try again.