Playmobil Is Getting A Movie Because Of Course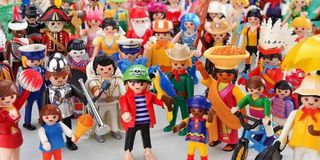 In a hardly surprising move, it has been announced that a Playmobil movie is currently in the works. Clearly a genius over at Playmobil noticed just how successful The LEGO Movie was earlier this summer, added 2 + 2 together and realized that they could probably profit off of its success too.
The German toy company Playmobil couldn't just let its Danish rivals dominate the toy figurine movie market without a fight. ON Entertainment, Wild Bunch and Pathe have now combined to invest $80 million in an animated Playmobil feature film, which they hope will benefit from the financial triumph of the awesome 2014 animated comedy extravaganza. According to Variety, Bob Persichetti, a Dreamworks veteran who has previously worked on Shrek 2 and Monsters vs. Aliens, has been placed in charge of developing the project. We can likely expect the finished product to have at least some similarity to the upcoming 2015 feature film adaptation of The Little Prince, which has the same animated creative team behind it.
It's safe to assume that without the success of The LEGO Movie we wouldn't be getting Playmobil's big screen debut. The two companies are often regarded as rivals because of the similarities between the figures. But the fact that they have proven to be hugely popular and sold millions of figures suggests that they have a friendly rivalry. This will be put to the test when both franchises have movies coming out within the same 12 month span. It has been reported that a spin-off from The LEGO Movie that focuses primarily on Batman (who was voiced magnificently by Arrested Development's Will Arnett) will be released in 2017, and the folks behind the Playmobil movie have tentatively announced that their own big-screen effort will be released in the same year. This means that they are going to have to compete with one of the most popular movie characters of 2014. Just watch the LEGO Batman brilliance in the scene below:
What an awful/amazing person. It will be very interesting to see what form a Playmobil movie ultimately takes. The hugely popular toys exist in 30 different play worlds. This means that those in control of the film will now be able to mine the likes of Future Planet, Stone Age, Top Agents, African Wildlife and Treasure Hunters for narrative ideas. The problem is though that none of the characters that populate these worlds are anywhere near as popular as the myriad of pop culture icons that thrived in The LEGO Movie and helped to make it preposterously watchable and entertaining. However, as long as they can get stellar vocal talent involved and are able to find the perfect pitch for the Playmobil characters, then it should still be appealing. It's just going to take a lot for it to match Emmet Brickowski's adventure.