The Plot Of Human Centipede 3 Is Disgusting, Of Course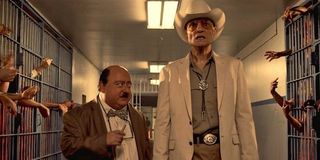 Tom Six made gained notoriety in 2010 with The Human Centipede (First Sequence), about a madman who sews unsuspecting tourists together, ass to mouth, to form a single digestive tract. The Human Centipede 2 (Full Sequence) followed in 2011, and 2015 will see The Human Centipede 3 (Final Sequence). Details have been kept under wraps, but now there's an extensive plot description, and it's as gross as you expected.
Entertainment Weekly has the dubious honor of unveiling this to the world, and without further ado, here we go. I hope you're not planning to eat anytime soon.
In the first film, the mad Dr. Heiter (also played by Dieter Laser) stitches together three victims. Part two sees a tollbooth operator, Martin (also played by Lawrence R. Harvey), get a twelve-victim chain going. So Human Centipede 3 is upping the game quite a bit, and stitching 500 convicts together is going to quite a feat, and quite a sight to behold we are sure.
From this description, Final Sequence also plays with a similarly meta concept as Full Sequence. These films aren't necessarily connected in the usual sequel manner. Instead, the second and third installments dwell in an exterior world, one where the first film exists as a film. Martin, the tollbooth operator, was inspired by the movie to create his own human centipede, and it looks like that's something that happens in conclusion of the trilogy as well (at least we expect it to be the end of the trilogy, but you never know with horror movies).
Also like the previous chapters, Six promises that his film is "100 percent politically incorrect," but you probably got that from the guy with the Hitler mustache. So there's that to look forward to. The first film is more ridiculous, and kind of silly, than it is frightening. Laser is a fine creepy, exploitation style villain, but overall it relies on being gross rather than scary. It's also one of those movies that leans heavily on a very specific concept. You just know that when Six came up with this idea he was psyched out of his mind, but while it's memorable to be sure, it's not enough to carry an entire feature. After about 45 minutes, you feel like they ran out of steam and are killing time until the end.
Still, if you're a fan of either of the previous movies, it sounds like The Human Centipede 3 is right up your alley. If nothing else, it's going to be batshit crazy. And hell, I'll watch any movie with Eric Roberts, so I'll probably be right there with you when this drops on VOD May 22.
Your Daily Blend of Entertainment News
Your Daily Blend of Entertainment News
Thank you for signing up to CinemaBlend. You will receive a verification email shortly.
There was a problem. Please refresh the page and try again.