Police Mistake Darth Vader's Latest Film For A Porno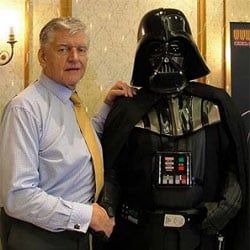 Darth Vader in a porno? No way! Seriously, no way. According to the U.K.'s Metro, David Prowse, the actor who portrayed Darth Vader in the first three Star Wars films had a run-in with the police while working on another film.
Neighbors were under the impression that a porn film was being made in a Newhall, Staffordshire bungalow after seeing camera and lighting equipment being brought into the home. The police addressed their concerns and raided the home as the cast filmed a dramatic scene of Deborah Hadfield's The Kindness of Strangers, which is set to premiere at the Cannes Film Festival next year. An unnamed crew member said "It was hilarious to see a bunch of policemen enter the bungalow expecting to see a porn film carrying on. When the officers saw two dressed actors talking, they looked quite disappointed."
The police may be calling the instance a big misunderstanding, but something doesn't seem right. I did a little digging and couldn't find any credible information about Hadfield's work or The Kindness of Strangers. In fact, the only site I found was for Hadfield's production company Queen Bee Films. It doesn't look like it's been updated in some time, but the little information it does contain doesn't show her films in the most wholesome light.
Staff Writer for CinemaBlend.
Your Daily Blend of Entertainment News
Thank you for signing up to CinemaBlend. You will receive a verification email shortly.
There was a problem. Please refresh the page and try again.