New Poltergeist Trailer Terrifies With Clowns And Pissed-Off Spirits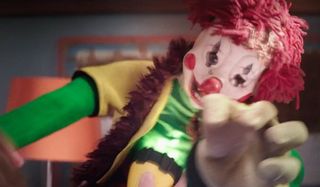 "They're here." The new Poltergeist trailer gives a major nod to the most widely quoted moment from the 1982 original. We've already seen some snippets of the remake, but this footage is all new and has far more ghostly shenanigans, especially that one nightmare-inducing clown. Who needs another version of Stephen King's It when we have this?
"This isn't just a few pissed off spirits," explains Jared Harris, playing the all-knowing priest come to help the terrified family. "It's a poltergeist." Horror fans know the classic story well: a suburban family home is terrorized by an angry spirit. After a slew of paranormal activity occurs, it snatches their young daughter and holds her hostage in the supernatural realm. As we hear in the Poltergeist trailer, the entities are "trapped and desperate, and Madison is their ticket out." The parents must cross over to the other side if they ever want to save her.
The problem is that these spirits know what scares this family — and us! The mysterious, floating house of cards, the flickering, fuzzy television set, and the Paranormal Acitivity-esque child snatching are nothing compared to the freightening visage that is the clown doll. No matter where we go we'll see its haunting, cackling face. The poster was one thing, but this moment alone will give us nightmares.
Tobe Hooper directed the original, but the remake is under the helm of Gil Kenan, the guy behind Monster House and City of Ember. Sam Raimi is also contributing to Poltergeist as a producer. Populating the cast, too, are Sam Rockwell and Rosemarie Dewitt as the loving parents, while younger Saxson Sharbino and Kyle Catlette have the wonderful task of playing the children who will be scarred for life. Though the daughter is one ubducted, Rockwell said previously that this version of Poltergeist will focus on the 10-year-old boy. In this sense, he called it a "kids' movie," which is backed by the film's PG-13 rating. While it may have less gore than R fair, there are bound to be an onslaught of jumps. The Lazarus Effect had the same rating and still managed its barrage of pop-outs -- even though it had its fair share of critics.
Poltergeist, however, seems like it'll be well worth the price of admission, given this new trailer. The film will hit theaters on May 22.
Your Daily Blend of Entertainment News
Your Daily Blend of Entertainment News
Thank you for signing up to CinemaBlend. You will receive a verification email shortly.
There was a problem. Please refresh the page and try again.