Possible Spider-Man Villain Surfaces, Would Be Terrible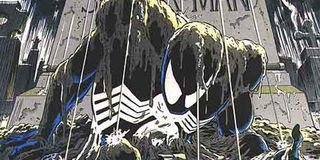 Like you, we are starving for any new piece of information pertaining to Jon Watts' planned reboot of Spider-Man, particularly because this will be the first Spidey movie made with the cooperation of Marvel Studios. The director just told us that this will be a teen-centric, coming-of-age story, and said they are just now starting to work on the script. Who, then, will Spider-Man fight? Well, a new report has a suggestion, but we're taking it with a massive grain of salt.
Marvel President Kevin Feige has said on the record before that their first pass at a Spider-Man movie will try to avoid any villains who have appeared in the previous five Spidey movies, which strikes a number of incredible baddies off the list of potential evildoers. So we're inclined to believe Heroic Hollywood when they quote a source as saying Kraven the Hunter is being considered as the first villain up to the plate for the solo Spider-Man movie due out in 2017. Here's where things get dicey, though. They say the reason that they believe this to be the case is because Karen Moy, the Vice President of Creative Affairs at Sony, bought a copy of the "Kraven's Last Hunt" trade paperback on Amazon.
That's thin. Like, anorexic.
But let's use this proof of online-shopping to at least have a conversation about Kraven, and whether he'd fit in a rebooted Spider-Man universe. One of the wall-crawler's oldest foes, Kraven the Hunter made his debut in 1964 on the pages of The Amazing Spider-Man #15. He's introduced into the Marvel universe as a big-game hunter, who comes to New York City to track and capture the man known as Spider-Man, thereby proving that he's the world's greatest hunter.
Based on everything that we have been hearing about Jon Watts' planned Spider-Man movie, that would make Kraven a terrible choice for the first villain. For starters, by hiring Tom Holland and going after a younger Spider-Man, we're accepting the fact that the hero isn't established yet. He's still finding his way as a crime-fighter… so how would Kraven know about him? Why would hunting and capturing this version of Spider-Man be any sort of prize for the famed Hunter?
Kraven actually would have fit nicely in the third chapter of Marc Webb's Amazing Spider-Man storyline. Seeing as how the OsCorp executives, and that mysterious, trenchcoat-wearing dude, were building an army of animal-based antagonists, sending Kraven into New York City to hunt them (and hunt Spider-Man, in the process) would have at least fit into the continuity of what Webb was attempting. That's probably why Webb has said he wanted Kraven the Hunter for his sequel, which wasn't meant to be.
Let's discuss Kraven's Last Hunt now, because even if Karen Moy is using it as research for the next possible Spider-Man story, this is the last place you'd want to start telling a Kraven tale. Set much later on the relationship timeline between Spidey and Kraven, this is a story that finds both men deep into their journeys as hero and villain. The melancholic and depressing story finds Kraven finally subduing Spider-Man (who sports his alien-symbiote-inspired black costume at the time) and burying him alive in a shallow grave, then assuming the hero's identity so he can live in his skin and prove that he has conquered his prey on every level. The story plays heavily on the long history Kraven and Spider-Man have as hunter and hunted, so using it as a blueprint for Kraven's first on-screen portrayal would be a mistake.
Of course, Karen Moy maybe just wanted something to read at the beach on her summer vacation. Or maybe she's buying it as a gift for a younger relative. Saying that Kraven might be the villain in the new Spider-Man movie based on an Amazon purchase is silly… and for the reasons I've highlighted above, going with Kraven as your first solo Spider-Man villain would be ill-advised, as well.
Sean O'Connell is a journalist and CinemaBlend's Managing Editor. He's frequently found on Twitter at @Sean_OConnell. ReelBlend cohost. A movie junkie who's Infatuated with comic-book films. Helped get the Snyder Cut released, then wrote a book about it.
Your Daily Blend of Entertainment News
Thank you for signing up to CinemaBlend. You will receive a verification email shortly.
There was a problem. Please refresh the page and try again.