New Poster For The Last Exorcism Is Climbing The Walls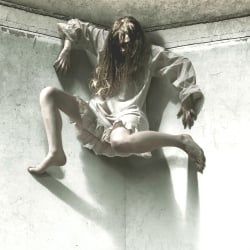 The first poster for The Last Exorcism went with the age-old trick of scaring people with a creepy child doing things that, really, no human is meant to do. They're back at it again with virtually the same technique in the new poster, which you can see below. Instead of doing a crazy backbend the creepy girl in question is literally crawling the walls, hovering up int he corner like a back ready to jump down and suck your blood.
Or, at least, I assume that's what a girl possessed by the devil will be doing. The Last Exorcism comes out August 27, in that end-of-summer window that pretty much only hosts horror movies. Take a look at the official synopsis and the poster below, and if you want to be terrified by possessed children in a few weeks, you'll know where to turn.
Your Daily Blend of Entertainment News
Staff Writer at CinemaBlend