Primer Director To Make First Big Budget Feature, Get The Details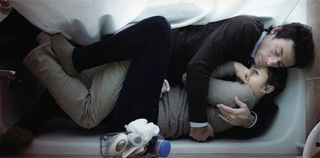 This may be one of the strangest pieces of news that you'll hear all day. Director Shane Carruth is known for his esoteric, micro-budget science fiction features Primer and Upstream Color, his only two films. However, for his next project, he's taking a wholly different path, that of the big-budget action movie, which, if you're familiar with his work, is about as drastic a departure as you can imagine.
According to a report in Deadline, Carruth has signed up with WME, one of the biggest, most prestigious talent agents in the business, and the general plan is that they will help him assemble his next film, The Modern Ocean. There isn't much in the way of details to be had right now, but the picture is described as "a nautical adventure" and reportedly will have a rather large budget.
Considering that Primer cost $7000 to produce, and Upstream Color had a practically luxurious $50,000 to work with, what "big budget" means to Carruth may very well be quite different from what most of Hollywood thinks of when they hear that phrase. Still, however this shakes out, this is sure to be a large step up for Carruth in terms of scope and scale of production.
To be honest, I'm a huge fan of both of his previous films, but I can't even imagine what a more mainstream, Shane Carruth-directed action movie might look like. Primer was filmed on the cheap and has an experimental time travel structure that takes a PhD to unravel (his previous career as a software engineer and background in mathematics makes so much sense when you watch the film) and has dense philosophical implications. Upstream Color involves pigs, parasites, and crazy sonic landscapes, and is both gorgeous and perplexing as all get out. Basically, he doesn't typically make the kind of movies that people will give you a lot of money for, so seeing how he synthesizes his sensibilities with a more traditional commercial approach is going to be something curious to watch unfold.
Just watch the trailer for Upstream Color and think about what kind of large, ocean going film this guy will make.
It will also be interesting to see how Carruth functions within a bigger production and with more resources at his disposal. On his previous two movies he had his hand in every last aspect of production from beginning to end. He wrote, directed, and starred in both; and produced, edited, and even distributed them through his erpbFilm banner. Hell, he even wrote the music for them. Working with an expanded budget, more people, and larger film overall, he likely won't have as much freedom and control. He'll likely have to relinquish at least some of his autonomy and power, and that could have a big influence on what comes out.
Like I said, I have no idea what to expect from a big-budget Shane Carruth action movie, but I will sure as hell be the first person in line to see it.
Your Daily Blend of Entertainment News