Prison Break's Rob Knepper Joins Ryan Reynolds In R.I.P.D.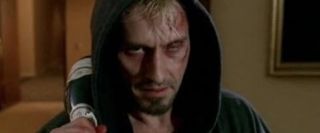 It's never too late to add cast members to your movie. R.I.P.D. has been filming in Boston for a couple weeks now with Ryan Reynolds and Jeff Bridges taking the lead, but Prison Break's Rob Knepper, says THR, has just signed on to play one of the baddies, which by this point in his career he should be pretty used to.
Knepper joins the cast as "Deado", a deceased spirit unwilling to leave the living's plane of existence and move on to the afterlife. He'll be at least one of the villains that our heroes in the Rest in Peace Department try to shuffle away to heaven or hell, but we do know that at one point in the film, Jeff Bridges will be played by Victoria's Secret model Marissa Miller so we could see some equally weird stuff from our bad guys as well.
Based on the comic by Peter Lenkov, R.I.P.D. is being helmed by Rob Schwentke, whose latest film was another comic adaptation called Red in which aging CIA retirees start kicking some ass again. The comic itself is a mere 4 issues, but the storyline lends itself well to sequels with new blood for the Rest in Peace Department arriving to the afterlife every day with plenty of spirits needing to be policed. Even though Reynolds' character will find his peace eventually, it'd be easy to bring in replacements. That's just my educated guess.
R.I.P.D. hits theaters June 28th, 2013 so we probably won't see much beyond set photos from the film for a while. But maybe soon we'll catch a glimpse of what the dead bad guys will look like. Stay tuned for more as it comes to us.
Your Daily Blend of Entertainment News
Thank you for signing up to CinemaBlend. You will receive a verification email shortly.
There was a problem. Please refresh the page and try again.