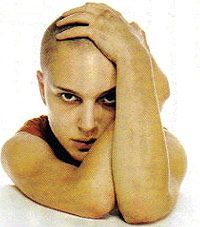 Natalie Portman has gone the Sinead route for her new movie V for Vendetta, which recently welcomed Hugo Weaving into the leading role.
According to Time Magazine and Hollywood Reporter, the thriller is really beginning to take flight. The story takes place in Britain during a futuristic totalitarian era, where a masked vigilante known as 'V' saves a woman's life and sparks a revolution. Portman plays the damsel in distress, who stays by his side, and loses her hair in the process.
"Some people will think I'm a neo-Nazi, or that I have cancer or I'm a lesbian." she speculates. But Portman takes her craft seriously and if a great role comes along that requires a physical transformation, she is smart enough to take it. "I can't stop rubbing my head. It's so soft. I might keep it for a while."
Let's hope she changes her mind, once filming wraps up.
V for Vendetta is directed by James McTeigue, who has worked as an assistant director on the Matrix sequels. The Wachowski brothers and Joel Silver are joining the team again to produce. Other members of the cast include Stephen Rea, Rupert Graves, and Stephen Fry. Check back for more information on production as it unfolds.
Your Daily Blend of Entertainment News
Thank you for signing up to CinemaBlend. You will receive a verification email shortly.
There was a problem. Please refresh the page and try again.