R.L. Stine Not Optimistic About Goosebumps Movie Coming Soon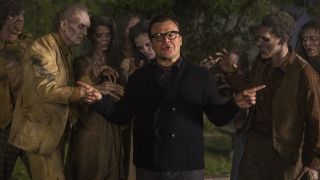 (Image credit: Sony)
Last night, I fulfilled a childhood dream by meeting one of my earliest literary idols, R.L. Stine. As a dedicated bookworm with the requisite coke bottle glasses, I jumped right from The Baby-sitters Club to Fear Street, and never looked back. Stine was promoting his new book, Red Rain, penned for adults who grew up on Fear Street and Goosebumps--which recently hit its 20th anniversary--and the crowd made up largely of twenty-somethings and thirty-somethings was positively giddy to meet the man whose twisted tales had kept them up at night.
For a man who proudly proclaims his job is to "terrify kids," Stine was a delightful speaker, sharing stories about his early ambitions to write humor novels for adults nand his first embarrassing job in the industry—writing pulp-style stories for a men's magazine under a nom de plume. He even brought out some fan letters, including his favorite from a boy wrote he'd read 40 of Stine's books, and found them "boring."
When it came time to open up to questions, most people asked about their favorite book, or wanted to know how they might get a job scaring children professionally. Of course, once I had a chance to ask a question, I mentioned the Goosebumps movie that has been in the works. He responded with the same wry and warm humor he'd shown the whole night saying:
The latest update on Columbia's Goosebumps project came earlier this year, when the studio was looking to switch from Disturbia scribe Carl Ellsworth to Shrek Forever After writer Darren Lemke to adapt the series into a film. Frustratingly, no word has emerged on the project since then. Still, it's good to see Stine is game for a movie version, even if he's not optimistic about one coming about anytime soon. But in the meantime, Stine's grown-up fans can now enjoy his latest novel, which he told us with a knowing smile is about some evil children.
Red Rain is now on sale.
Your Daily Blend of Entertainment News
Staff writer at CinemaBlend.