Will Jack the Giant Killer Scribe Give The Goosebumps Movie A Fresh Start?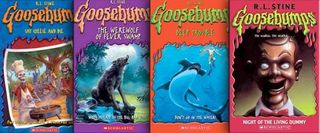 If you grew up during the '90s, it's likely you're familiar with prolific YA-writer R.L. Stine's Goosebumps, either as the kiddie-friendly horror book series or as its child star-studded TV spin-off. The ubiquitous franchise has long frightened and delighted children with its spooky stories of devilish toys, menacing MacGuffins, and campfire tales come true. To that end, many fully-grown moviegoers still share a soft spot for these creepy chronicles that served as their early introduction into the joys of horror. So it's little surprise that a Goosebumps movie would be in the works. The proposed project drew notice in 2010 when Columbia Pictures hired Disturbia screenwriter Carl Ellsworth to pen an adaptation inspired by R.L. Stine's beloved series. It seemed an smart choice, as Ellsworth's re-imagination of Rear Window's well-known premise proved inventive and frightening while scoring a box office friendly PG-13 rating.
Sadly, this approach has stalled out, and now Columbia is looking to start from scratch with screenwriter Darren Lemke, who co-wrote Shrek Forever After as well as Bryan Singer's upcoming fairytale adventure Jack the Giant Killer. THR says Lemke is all but signed to survey the 50 plus books Columbia's optioned from the Goosebumps series to spawn something new, horrifying, and family-friendly. With such an expansive acquisition of Goosebumps titles, it seems Columbia's looking to create a horror anthology in the vein of Twilight Zone: The Movie or the Tales from the Crypt flicks, but intended for kids. It is a setup to which Lemke would be well-suited, considering his filmography thus far. However, I must admit the switch from Ellsworth to Lemke makes me wonder if Columbia's looking to court kids alone, rather than draw in adults with a nostalgia for these twisted and darkly funny books.
If so, it seems a shame—not to mention foolish—as nostalgia has been scoring big lately, with glossy kid flicks based on Saturday morning cartoons like The Smurfs and The Chipmunks making box office bank along with the ardent Amblin homage Super 8. Of course, it may be too soon to say, But with R.L. Stine possessing a loyal and ever-growing Twitter following, Columbia would be a dummy to discount older demographics on this one.
Your Daily Blend of Entertainment News
Staff writer at CinemaBlend.
Your Daily Blend of Entertainment News
Thank you for signing up to CinemaBlend. You will receive a verification email shortly.
There was a problem. Please refresh the page and try again.