RIP, Blockbuster: All Remaining Stores Are Now Closing For Good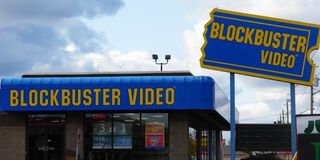 It's probably been years since you set foot in an actual Blockbuster store, or any physical place to rent movies, but feel free to shed a tear at this news anyway: Blockbuster LLC is officially closing down their remaining 300 brick-and-mortar stores in the United States. The company already endured bankruptcy in 2011, and was purchased at the time by Dish Network Corp; at its peak, in 2004, Blockbuster was operating 9,000 locations, and when Dish purchased the company it was down to 1700.
You know what happened after 2004 to change everything: Netflix. First offering the unbelievable option of having DVDs mailed directly to you-- for free!-- Netflix has since morphed into a powerhouse of both content creation and on-demand movie viewing. First they made it so that you could avoid the trek to Blockbuster and just wait 2 days for the movie you want to be delivered to your door. Then they started offering thousands of films for immediate streaming, replacing the familiar wander through the Blockbuster shelves with a few clicks of the Apple TV remote. Blockbuster attempted to keep up, with their own DVD mailing offerings and streaming service, but that only served to make their physical locations even less of a company priority.
Anyone who grew up in the 80s and 90s has Blockbuster Video memories, and I'm no exception-- getting my own Blockbuster card was the first thing I did once I turned 18, and I recently wrote a piece for the wonderful magazine Birth Movies Death about how renting Spaceballs earned coveted approval from the haughty, cute Blockbuster Guy working the counter. I still carry my Blockbuster card in my wallet, issued one day after my 18th birthday:
But Blockbuster Video is also part of a genuinely disturbing trend, in which mega-chains move into town and force out the independent stores, only to then go out of business themselves when the industry shifts. It happened for Virgin Megastore and for Barnes & Noble, both of which have gone defunct and often left whole towns without the music stores or bookstores that they had put out of business. There are still a few independent video stores clinging to life across the country, including some truly great ones, but most are gone, killed off by Blockbuster long before video on-demand and streaming services came on to the scene. And while it's amazing that Netflix can offer thousands of titles, many the kind that your local video store would never have carried to begin with, the end of the video store era brings some sad consequences as well.
It boggles my mind to think of what it's like to be a teenage budding cinephile today, where the kind of movies I would comb my local Blockbuster shelves to find (and usually fail) are right there on your Netflix queue. But I don't think it's just pure nostalgia that has me a little wistful for the Blockbuster days. Feel free to share your own Blockbuster memories, good and bad, in the comments, and to celebrate all those late fees that you've now managed to escape once and for all.
Your Daily Blend of Entertainment News
Staff Writer at CinemaBlend