RZA Keeps His Comedy Career Going With Due Date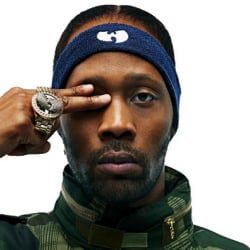 The delivery room is getting even more crowded for Todd Phillips' Due Date. The comedy, starring Robert Downey Jr. as a father-to-be rushing home in time for the delivery, with Zach Galifianakis as his slacker road trip buddy, added Michelle Monaghan and Jamie Foxx last week; now rapper RZA is joining as well.
Variety reported today that he's been cast in the film, but isn't specifying what role he'll play. There are pretty much only two options-- either he's a crazy character who Downey Jr. and Galifianakis encounter on their way home, or he's somehow involved in Foxx's scheme to win back Monaghan, his ex. RZA's small role in Funny People wasn't really enough to tell me whether or not I'm ready for a bigger role for him in a comedy, but it's not like Todd Phillips' movies live and die on their performances anyway. With Downey Jr. and Galifianakis already in the frame, RZA can probably toss off a few jokes and call it a day.
Your Daily Blend of Entertainment News
Staff Writer at CinemaBlend