Rachel McAdams May Show Up In Sherlock Holmes 2 After All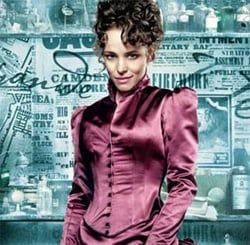 Much as I love Rachel McAdams, to me it's always made sense that she'd be in the first Sherlock Holmes and then not show up in the second. Sherlock doesn't need a steady girlfriend and there's really no way to bring her back without their relationship becoming that. Irene Adler is supposed to be the one woman Sherlock Holmes admires above all others, but will never have. She only appears very briefly in the original Holmes stories and Sherlock's only steady relationship should be with the stalwart Watson. So when the cast for Sherlock Holmes 2 was announced with McAdams' name absent and Noomi Rapace as a new female character instead, that seemed about right. Except, well, now McAdams thinks she may be back.
Talking with MTV Rachel revealed that the whole thing is sort of up in the air. She says, "They're still doing script work, and we'll see." That doesn't mean she'll be fighting for screen time with Noomi Rapace. McAdams explains, "If I do, it won't be a very big thing, it's not a lead part."
So it sounds like while there's still a chance Irene may return, if she does it won't be for long. Don't expect more than a cameo for Rachel McAdams in Sherlock Holmes 2. Instead you'll get a steady dose of Noomi Rapace as a gypsy.
Here's the full, albeit brief interview in which Rachel discusses Sherlock Holmes 2:
Your Daily Blend of Entertainment News