The Raid 2 Singles Out Its U.S. Release Date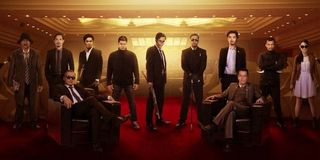 Are you ready to Raid again? The sequel to The Raid: Redemption has been highly anticipated since that first film's March 2012 release, as it thunked and crunched its way into the hearts of action lovers worldwide. While production was cooking on The Raid 2: Berandal, Gareth Evans co-directed a buzzy segment for horror anthology V/H/S 2 that only boosted further excitement regarding the return of Rama (Iko Uwais) and his fists of fury.
And stateside, we finally have a release date. The Raid 2, as it's being called over here, will hit theaters on March 28th according to Coming Soon, almost two years since the first picture debuted over here. The film takes place about two hours after the close of the first film, and if the trailer is to be believed, it begins with our hero in prison. It is illegal, after all, to kick TOO much ass. His journey will take him inside the Jakarta crime syndicate, where he will attempt to uncover the corruption in the police force. And while we don't want to spoil anything, it's safe to say that some people might get hurt in elaborate ways. Probably.
While this Sony Pictures Classics release isn't likely to be wide, it opens on the 28th against Drake Doremus' Breathe In, Diego Luna's historical drama Cesar Chavez and Darren Aronofsky's Noah. In the right cities, that's one hell of a triple header. The first film never expanded beyond 881 theaters, but there's a good chance this one reaches slightly more audience members. Oh, also A Haunted House 2 opens that day. Won't want to miss that. And if you have to choose between any of these, just know, one of these films is way more likely to have some people getting kicked in the head hard and mean. And it probably isn't Breathe In. Plus, if The Raid 2 is in a theater near you, you'll be able to bring your own cheering section. You probably can't do that during Cesar Chavez, but if you can, let us know. We'd totally have to go to THAT theater.
Evans returns to write and direct this installment, with another pulse-pounding score by Aria Prayogi, Fajar Yuskemal and Joseph Trapanese, the latter of which was involved in the soundtracks to both Tron: Legacy and Oblivion, so it's likely while dudes are getting their skulls crushed in, you're going to be bobbing your head a little. We suggest you wear a helmet before pressing play on the trailer below, for purposes of safety.
Your Daily Blend of Entertainment News
Thank you for signing up to CinemaBlend. You will receive a verification email shortly.
There was a problem. Please refresh the page and try again.