A Rare Star Wars Trailer Just Surfaced, Watch It Here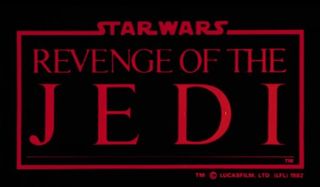 The glory of the world wide web means that we can now digest decades old trailers, photos, and anecdotes that have either been lost or in hiding for years. Obviously anything to do with Star Wars is devoured rabidly by the franchise's ever expanding fan-base. Which is why this gloriously retro and previously unseen trailer for Star Wars: Return Of The Jedi will be of interest to so many of you out there. Especially since it includes so many mistakes, too. Check it out below, and then have a scroll down for a quick chat about it.
Do you feel special after watching that? Well you should, because this trailer only appeared in British theatres during 1982, where it was attached to the summer re-release of 1977's Star Wars and 1980's The Empire Strikes Back.
I'm going to guess that the first thing you noticed about the trailer was the fact that, rather than being called Return Of The Jedi, it was promoting Revenge Of The Jedi. Star Wars die-hards will know that this was the original title for the third instalment to the original trilogy, but George Lucas decided that it was too aggressive so he exchanged Revenge for the less foreboding Return.
But what's just as interesting as the change of title is that Revenge Of The Jedi was originally being touted for a Christmas 1983 release in the UK.
According to Oscars.org, Lucasfilm and 20th Century Fox were discussing as early as March 1982 whether or not to give Jedi a Christmas release date in the U.K., rather than hitting cinemas in the summer like it was planned with the U.S.. It was believed that this festive release would give families a nice holiday outing, while merchandise would obviously prosper because of the proximity to Christmas. Props and costumes used to promote the film in the US that summer would also be free for use in the U.K. a few months later, too.
But these discussions ultimately proved futile, because it was soon decided that Return Of The Jedi would be released in the U.K. just a week after it began its run in the U.S. on June 2nd, 1983. But just think of how much these changes could have altered cinematic history. Maybe it wouldn't have changed much at all really, but it's still interesting to know.
Your Daily Blend of Entertainment News
Your Daily Blend of Entertainment News
Thank you for signing up to CinemaBlend. You will receive a verification email shortly.
There was a problem. Please refresh the page and try again.