Rating Harry Potter's Defense Against The Dark Arts Teachers, An Infographic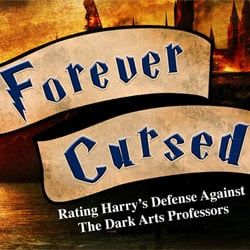 Why do some of the Harry Potter movies and books work better than others? Is it the director, is it J.K. Rowling's writing style? Certainly, those elements are both in play, but the one ever-changing constant throughout Harry Potter's time at Hogwarts is the Defense Against The Dark Arts Teacher. Long considered a cursed position, the professor responsible for imparting strategic wisdom against the other side can, in many ways, be seen as a microcosm for why each installment either succeeds or fails. The better the Defense Against The Dark Arts Teacher, the better the movie.
Of course, all of this has very little to do with the actual job each teacher does. Whether a brilliant lecturer or a distracted absentee, their pedagogical skill is, for all practical purposes, meaningless. It's their strength of character, the effect they have on Harry Potter and their importance to each movie's plot that shape and dictate the final product. So, for example, a Defense Against The Dark Arts Teacher that might have loads of backstory but never really interact with Harry or figures into the overall story arc would score high marks for strength of character but lose points because of their lack of effect on Harry and pointlessness to the overarching theme.
We've included results for the first 6 Defense Against The Dark Arts Professors below. The 7th, Amycus Carrow, is not included because The Deathly Hallows mostly takes place away from Hogwarts, and by that point, the position is actually redubbed Dark Arts Professor. So, how did your favorite professor stack up? Check out the infograph below and then sound off in our comment section at the bottom of the page.
Embed This Infographic:
Your Daily Blend of Entertainment News