Read The Apology A Major Movie Pirate Sent To Quentin Tarantino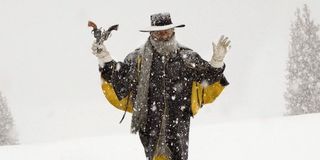 Online piracy of movies and TV shows is a big issue in the entertainment industry, and that subject has once again moved to the forefront as a number of high-profile potential awards contenders leaked out even before they opened in theaters. One of the most prominent was Quentin Tarantino's latest, the western The Hateful Eight, and the group responsible for putting the movie up on torrent sites has done something unprecedented: they apologized.
The online piracy group Hive-CM8, who claimed responsibility for leaking The Hateful Eight ahead of it's Christmas Day release, took to Reddit to offer Tarantino a rambling apology, and something of a half-hearted defense. Read it below:
Tarantino's ensemble period western was released in a limited number of theaters on Christmas Day (it will shortly expand to more than 2000, but in a different, digital format), but Hive-CM8 managed to post the film on the internet on December 21, where it was quickly downloaded hundreds of thousands of times. Given how much fuss has been made about it screening on 70mm, it's hard to imagine watching it on your computer or even a TV screen.
In the wake of the leak, there was a lot of finger pointing and casting of blame. Some accused critics groups, many of which get high quality screeners for end-of-the-year voting consideration, for the leak, but the pirated copy was ultimately traced back to one sent to an executive at Alcorn Entertainment. He claimed he never saw the package, and as Hive-CM8 says they bought the film from a guy on the street, it sounds like another party intercepted the delivery in transit.
The Hateful Eight was far from the only big movie that was leaked recently, though it is the only one, as far as I know, that has ever earned an apology from the people who did it. Alejandro Gonzalez Inarritu's The Revenant, another Christmas Day release, also hit around the same time, but the likes of Creed, In the Heart of the Sea, Joy, Carol, Steve Jobs, and many more are also out there and available to pirate.
Other than the fact that they seemed to really enjoy The Hateful Eight, there's no real reason given why Hive-CM8 issued this apology, though they do encourage people to go pay to see the movie in theaters, and offer the hope that they helped drum up some additional business.
The Hateful Eight is playing in 70mm in select theaters now, and will expand to more, though in a different, digital format, in the coming days. You should probably go check it out. Even the internet pirates think so.
Your Daily Blend of Entertainment News
Your Daily Blend of Entertainment News
Thank you for signing up to CinemaBlend. You will receive a verification email shortly.
There was a problem. Please refresh the page and try again.