A Real Life 21 Jump Street Drug Bust Happened In Texas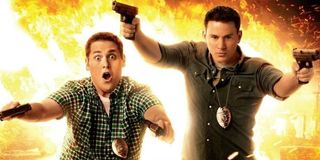 It's not very often we hear about the plot of a silly buddy cop comedy happening in real life. But, as it turns out members of a Houston-area narcotics task force played similar roles to Jonah Hill and Channing Tatum in their action comedy 21 Jump Street. For eight months these particular members of the task force posed as students at a local high school to bust a drug ring run by students.
According to a local newspaper, The Houston Chronicle, the undercover operation began in August of 2014 and ended last month in March with the arrest of six students (four of which are adults, and two minors). They were handed a total of 10 charges and according to a release the task force seized cocaine, marijuana, Tramadol and Alprazolam from students at both Pearland High School and Dawson High School. Of the students charged one was charged with two counts of delivery of cocaine in a drug-free zone, another for the delivery of Xanax and Tramadol, and two students charged for the delivery of marijuana.
When Lieutenant Chris Reioux of the Brazoria County Narcotics Task was asked about the situation, he joked about hating the Jump Street movies and said that this was an undercover operation his department has conducted numerous times in recent years:
The 2012 21 Jump Street which recently saw a sequel, 22 Jump Street is actually an adaptation of a late '80s TV series by the same name. The original series followed a team of youthful-looking undercover police officers investigating crimes in high school, college or other youth venues. It's certainly not a new idea, and as the local area lieutenant where this Jump Street drug bust took place reiterated, his task force does this often. But, as Jonah Hill and Channing Tatum have taught us in the Jump Street films, there's always something a bit off that could potentially be a giveaway.
The current Jump Street films, as well as their associated police procedures are certainly not going any where. The film franchise, directed by Phil Lord and Chris Miller (The Lego Movie) has gained pretty good critical reception considering the films' silly premises. And they've done so well at the box office, that a threequel, 23 Jump Street is in the works too. Though now that the buddy cop duo have taken on high school and college, we aren't exactly sure what 'youth venue' they'll be tackling next.
Your Daily Blend of Entertainment News
Your Daily Blend of Entertainment News
Thank you for signing up to CinemaBlend. You will receive a verification email shortly.
There was a problem. Please refresh the page and try again.