The Real Reason Danny Boyle Kept Delaying Trainspotting 2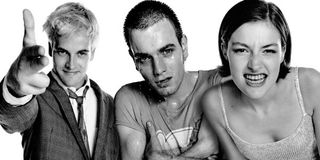 Trainspotting, the seminal 1996 British black comedy that brought us Ewan McGregor, exploded onto the pop culture scene making both McGregor, as well as director Danny Boyle, instant Hollywood darlings. In the twenty years since there has been intermittent chatter about a sequel. Now, not only do we have confirmation that one is certainly forthcoming, but we also now know why there hasn't been one yet: the cast was fearful that a sequel might tank.
Boyle told Vulture that McGregor, as well as the other central members of the iconic cast, were concerned about a potential Trainspotting 2 failing to meet the standard of the original.
Boyle went on to explain that it was that sensitivity to the material that prevented a sequel from materializing a decade ago when an attempt was initially made. Boyle stated that the script was so mediocre that he didn't even bother sending it to the principle actors, as he knew they would tear it to shreds. Then last year, Boyle convened a week-long creative think tank in Edinburgh comprised of the film's original producing team, Trainspotting screenwriter John Hodge, and Irvine Welsh, the author of the book on which the film was based.
What resulted was a script from Hodge that not only stayed true to and honored the first film, but allowed the characters to exist in a world that has changed along with them over the last two decades. Danny Boyle gushed when talking about the response to the script from all involved, including, and most especially, the actors.
Boyle has since gone on to establish himself as a Hollywood auteur directing such hits as 28 Days Later…, Slumdog Millionaire, 127 Hours, and the upcoming biopic Steve Jobs, based on the iconic Apple innovator.
Trainspotting catapulted McGregor to stardom. Following is turn as Mark "Rent Boy" Renton, McGregor went on to star in such box office hits as Moulin Rouge!, Blackhawk Down, and, most famously, as the iconic role of Obi-Wan Kenobi in the prequel trilogy for the Star Wars franchise.
No word yet on when to expect Trainspotting 2 in theaters.
Your Daily Blend of Entertainment News
Thank you for signing up to CinemaBlend. You will receive a verification email shortly.
There was a problem. Please refresh the page and try again.