Remember The Hunger Games High Points In This Mockingjay Part 2 Clip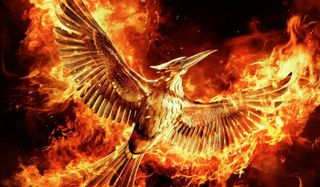 The first Hunger Games: Mockingjay, Part 2 poster has flown in, and with it brings the release of the totem bird. All throughout the franchise, Lionsgate has debuted teaser posters that simultaneously track the evolution of the Hunger Games logo and the growing rebellion against the Capitol. A new video in promotion of the final installment of the franchise pays tribute to the films that came before it, while gloriously depicting how the lonely Mockingjay spread its wings into a glowing phoenix.
When the bird was confined to its pin, clutching an arrow in its beak for the first film, the rebellion was nothing but a twinkle in Katniss' eye as she volunteered to replace her sister in the devastating games. For Catching Fire, the bird perched itself atop a rotating clock, as Katniss and the veteran tributes entered the tropical dome of the arena. Mockingjay, Part 1 saw both Katniss and her symbol rising to the challenge of leading the rebellion, and this latest Part 2 design hints that Katniss and her forces are ready for the final strike against President Snow (Donald Sutherland).
In addition to the reflective video, Lionsgate released your standard movie poster version of the Mockingjay, Part 2 logo, which we found via MTV.
The final installment has a lot of ground to cover, but this first tease for the film suggests Jennifer Lawrence's Katniss will tackle the challenges head on. By the end of Part 1, the Girl on Fire had accepted her role as the public face of the rebellion and successfully extracted Peeta (Josh Hutcherson) and Johanna (Jena Malone) from imprisonment in the Capitol. Unfortunately, Katniss soon found that Peeta had been tortured and brainwashed into hating and attacking her. While this film was about the casualties and mental effects of war, Part 2 will pick up the action significantly. In the last half of Suzanne Collins' best-selling book, Katniss and co., including Finnick (Sam Claflin), infiltrate the Capitol once again for one final assault. In addition to these returning faces, we also have the presence of Brienne herself, Gwendoline Christie, to look forward to. The Game of Thrones and Star Wars: Episode 7 star is playing Commander Lyme, and she'll be great in the role.
If you've read the book, though, Part 2 could very well mean that a few of our favorite characters might not make it to the end of the film. But we'll see how faithfully the film adapts the source material when it drops in theaters on November 20.
Your Daily Blend of Entertainment News
Thank you for signing up to CinemaBlend. You will receive a verification email shortly.
There was a problem. Please refresh the page and try again.