Reshoots For The Harry Potter Epilogue Finally Complete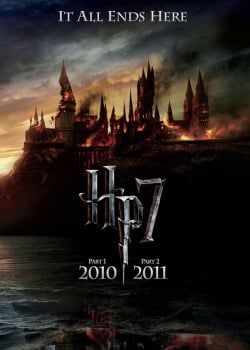 Potter fans around the world probably got a little emotional-- I know I did-- when the decade-long movie franchise finally wrapped shooting in June this year. And yet, kind of like the way they managed to split the final book in half and milk it for just a little longer, the days of putting round glasses on Daniel Radcliffe weren't quite over until now. The main cast went back to the soundstages recently to reshoot some scenes' from the film's epilogue, and according to Slashfilm, those reshoots have just now wrapped up.
Radcliffe himself gave a somewhat awkward explanation for the reshoots, claiming that the original shoot at the actual King's Cross Station limited their options for coverage and the like, but I'm guessing they had something to do with the photos leaked from the set, which revealed that the makeup and prosthetics worn by the main cast were, um, a little less than stellar (click over to the article if you what to know more, but spoiler alert and all). It was a surprise given how excellent the effects work in the films thus far have been, and I'm betting the Harry Potter team said to themselves "we can do better," and used some of those limitless funds to make it so.
In additional Potter news, the production has brought on young actor Benedict Clarke to play the younger Severus Snape (seen in a flashback near the end of the book), and Bertie Gilbert will play… well, a member of the Malfoy family not seen until the epilogue. You probably know what I mean. Seriously, when does the statute of limitations on spoilers for this franchise finally run out?
Staff Writer at CinemaBlend
Your Daily Blend of Entertainment News
Thank you for signing up to CinemaBlend. You will receive a verification email shortly.
There was a problem. Please refresh the page and try again.