Will Ricky Gervais Ruin The Muppets?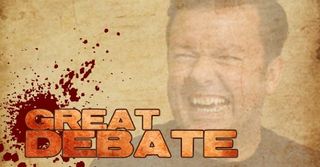 Yesterday Kristy wrote excitedly about the news that Ricky Gervais had been cast as the main human in the upcoming Muppets movie, saying "Personally, I couldn't be more excited about this news." At the same time, Katey bitterly tweeted "Ricky Gervais in the next Muppets movie is the quickest way to make me dread it. If you can't say anything nice… come sit by me."
Which one of them is right? Is Ricky Gervais a perfect fit for the exuberant and knowing humor of The Muppets, or is he a bitter has-been British TV star who will just hog the spotlight? Obviously the only way to work this out was a Great Debate. Read below as Katey and Kristy make their cases, and vote for your own pick in the poll at the bottom of this post.
KATEY: Kristy, I am so over Ricky Gervais and I don't want him anywhere near the Muppets. Tell me I'm wrong.
KRISTY: Well, it might help if you can explain why you're over Gervais. I can't really relate. I've seen just about everything he's done, and still count myself as a fan and Twitter follower.
KATEY: I stopped following him on Twitter years ago. It's some combination of the endless ranting about atheism-- which is fine, but I feel like he made his point years ago-- and all the self-congratulation he did after hosting the Globes. At some point he morphed into a real-life David Brent, and I had to tune out. In fact, about a year ago, I wrote this post when he kept doing all that teasing about maybe hosting the Golden Globes.
KRISTY: So it's his persona that you're exhausted by?
KATEY: Since the UK Office and Extras both ended, it's felt like he's a pop culture presence without a purpose, and since he doesn't bother to work as an actor, he's just trying to coast off his personality, which is starting to seem more and more noxious.
KRISTY: That's interesting. I think of his persona as a sort of Stephen Colbert front, and so it's still entertaining to me. But I can see where it could be grating. But either way, I think that could work for Muppets 2. Since the last movie had a happy-go-lucky guy at its center (Jason Segel), and they've already cast chronically plucky Ty Burell in the sequel, I'm thinking that Gervais will play a grump who is transformed by the mirth of the Muppets. Like A Muppet Christmas Carol minus the holiday theme.
KATEY: I'm totally down with seeing a grump transformed by the Muppets-- but I would have rather it been anybody else. I don't think Gervais is a good enough actor to be able to tone down his own cynicism and nastiness to jive with the Muppets.
I could totally be wrong though, and i'd gladly be wrong. But as someone who was disappointed by the first Muppets movie, I don't want to see them cast a big attention-hog human who could distract the story from the actual puppet stars.
KRISTY: The Muppets are so meta that it makes sense to me to pick someone whose got the kind of public persona as Gervais. It feeds into the movie in a way that could work brilliantly. But I disagree on the charge of Gervais being cynical. I think that at the core of his comedy there's a yearning for wonder and hope, and it's part of why I think he's a natural to play against the Muppets.
Also, he can do high energy buffoonery (like David Brent) and low-level grumpiness like Andy from Extras. It's just about all the range you need to play opposite the Muppets. The movie demands someone who can keep up with them, and not fade into the background. And I think Gervais can do it. Though, I'm still crushed Christoph Waltz is out.
KATEY: I'm glad we can at least agree Waltz would have been better. I think Gervais might just have to be an eternal blind spot for me-- no amount of convincing can get me back on his side, and I can accept that.
KRISTY: Well, he would have had Burrell's role, but I would have loved to see him wild-bearded and wooly with the gang.
Well, there's still a third human lead to be cast. Since we know absolutely nothing about that role, who would you love to see fill it?
KATEY: Hmmm... you're putting me on the spot! I'm gonna make you go first.
KRISTY: Off the top of my head, Ari Graynor. She's hysterical and got a go-for-broke energy that'd I'd love to see opposite Muppets.
KATEY: Well with the European setting in mind, I'm wondering how Penelope Cruz might fit in. I think she's got the right kind of energy. And she could bring Javier Bardem in for a cameo!
KRISTY: Oh man, that would be so weird and wonderful. Maybe with the cameos at least. Really take advantage of the international setting. Maybe the could squeeze Waltz in yet!
KATEY: That might at least take some of the bad taste out of my mouth. In the meantime, I cling to your optimism.
KRISTY: You're welcome to it. I got plenty!
This poll is no longer available.
Your Daily Blend of Entertainment News
Thank you for signing up to CinemaBlend. You will receive a verification email shortly.
There was a problem. Please refresh the page and try again.