Robert Downey Jr.'s Con Man Movie Sounds Awesome, Get The Details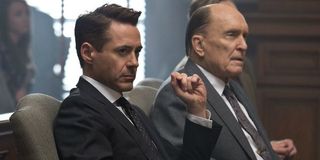 Now that Robert Downey Jr.'s Marvel responsibilities will be lighter following Captain America: Civil War, he can beef up some of his other projects, and his latest one sounds pretty badass. It's a movie based on the upcoming book called Chasing Phil: The World's Greatest Con Man, Two Undercover FBI Agents, And Their Amazing Around The World Adventure. Yes, it's one of the longest titles ever, but based on what we know, it's already an interesting sell.
The work by author David Howard hasn't been published yet, but according to The Wrap, Warner Bros. is already interested enough in the story that the studio preemptively scooped up the cinematic rights, as well as the life rights to FBI Agents Jim Wedick and Jack Brennan. The book proposal centers around the FBI's first foray into white-collar crime and utilizing agents as longterm undercover operatives. Two young agents are tasked with infiltrating the shady world of Phil Kitzer, the multi-millionaire con man responsible for dozens of schemes with The Fraternity, his international network of associates. Kitzer is charismatic and a mastermind of sorts. He's essentially a genius, playboy…well, not philanthropist, but it certainly makes sense to cast Downey in this role.
Downey isn't officially locked into the part, though he's expected to be soon, as Kitzer will be customized for the actor's unique set of skills to make him even more Downey-esque. At the very least, the Iron Man star is producing the film through his Team Downey banner, along with his wife Susan and producer David Gambino. Courtenay Valenti and Julia Spiro will oversee the project for Team Warner Bros.
Downey is currently filming Captain America: Civil War with Chris Evans, Chadwick Boseman, Scarlett Johansson, Jeremy Renner, Elizabeth Olsen, Anthony Mackie, Paul Rudd, and just about every Marvel movie actor you can think of. He'll reprise his role of Tony Stark once again for a story ripped from the pages of the comics: after an international incident involving the Avengers, the governments of the world band together to pass Superhuman Registration Act, which divides the heroes. Members of the new and old Avengers, and some newbies like Black Panther, face off over philosophical and political differences.
After this film, Downey is expected to return for the two-part Avengers: Infinity War. Although the first installment won't hit theaters until May 4, 2018, they will film both movies back-to-back under the direction of Joe and Anthony Russo. Outside of the Marvel Cinematic Universe, Downey recently appeared in The Judge and Chef. Perhaps we'll see these types of roles increase now that the superhero movie studio will soon be focusing on a crop of new heroes, including Doctor Strange and Captain Marvel.
Your Daily Blend of Entertainment News