Robert Downey Jr. Is Getting Is Getting The MTV Generation Award, Which Seems About Right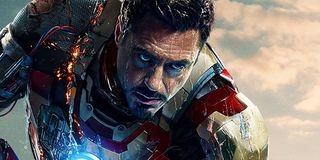 Over the course of his career, Robert Downey Jr. has racked up a fair amount of critical acclaim. He's scored Oscar nominations, Golden Globes nods, and now he's earned the highest honor MTV can bestow on an actor, The MTV Generation Award.
The network that used to show music videos announced that Downey Jr. will receive the award during the 2015 MTV Movie Awards telecast on April 12. And not only will he add an impressive piece of hardware to his collection, his Avengers: Age of Ultron costars Chris Evans, Scarlett Johansson, Mark Ruffalo, Chris Hemsworth, and Jeremy Renner will be on hand to present it to him.
For the unfamiliar, the network gives the Generation Award annually to an actor who not only delivers engaging, insightful performances, but who have also taken the time to connect with the MTV audience. It is a kind of lifetime achievement award, but with its own special parameters. In the past it has been presented to the likes of Mark Wahlberg, Sandra Bullock, Adam Sandler, and Tom Cruise, among others.
MTV President Stephen Friedman says:
Trophies are all well and good, and the MTV Movie Awards, as an event, is usually more entertaining than your typical awards show. But if you want something more than just celebrities thanking each other and the cast of Age of Ultron hugging on stage, MTV has you covered in that regard, too. Not only will you get to see much of the cast together, but a new 90-second clip is also scheduled to debut during the broadcast. That's definitely something worth tuning in to see.
In Age of Ultron, Robert Downey Jr.'s Tony Stark attempts to develop a kind of global security net, and in doing so creates the most harrowing threat humanity has ever faced—the evil, artificially intelligent Ultron (voiced with an exceptional level of sinister creep by James Spader). No one else has the tools to cope, so it's up to Earth's Mightiest Heroes to step up and save the day, if they can.
Not only do the Avengers have Ultron to contend with, not to mention HYDRA still lurking around out there—we've seen their goons wearing Chitauri armor scavenged from the aftermath of the Battle of New York—but there is growing discord within the group. We've seen brief glimpses of this in much of the promotional build up to Age of Ultron, and moving forward much of this come to a head in Captain America: Civil War.
Written and directed by Joss Whedon, Avengers: Age of Ultron opens May 1 and brings back favorite superheroes Iron Man, Thor, Black Widow, Hulk, Captain America, Hawkeye, and more, as well as adding new faces like Scarlet Witch, Quicksilver, and The Vision to the mix. It's also 142-minutes-long, so make sure to plan your pre show liquid consumption accordingly. The 2015 MTV Movie Awards air on Sunday, April 12.
Your Daily Blend of Entertainment News
Thank you for signing up to CinemaBlend. You will receive a verification email shortly.
There was a problem. Please refresh the page and try again.