Robert Downey Jr. Has Officially Signed On For The Avengers 2 & 3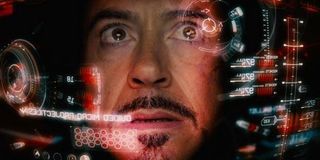 Three cheers for the future of Marvel franchises! Marvel has just announced that after a long negotiation period, Robert Downey Jr. has committed to play Tony "Iron Man" Stark for two more feature films, specifically The Avengers 2 and The Avengers 3. What's not mentioned in Marvel's press release—and is sure to be a matter of speculation until someone fesses up—is just how much Downey commanded to step back into that cumbersome suit.
For weeks, Downey and Marvel were reportedly in hardball negotiations over his involvement in the studio's projects following Iron Man 3. The star could be credited with forging the foundation of Marvel's current box office momentum with his three Iron Man films. Because his previous contract was fulfilled, he had the company over a barrel when it came to the Avengers sequels. Sure, they could recast, but that would have surely drawn the overwhelming outrage of fans all around the world who would accept no one else as Iron Man but Downey, with his unique blend of smug charm and biting wit. In their press release Marvel even gives credit to the actor for the successes of Iron Man 3 and The Avengers, noting that that two of their titles are on the list of the top five grossing films of all time. Considering Downey reportedly made $50 million for The Avengers, the mind boggles at what he got Marvel to commit to this time around.
While we've had to wait for things to get official, we were fairly certain Downey was all but signed when Avengers director Joss Whedon announced he wouldn't make Avengers 2 without him, adding:
From here, Marvel is surely working on nailing down deals with the rest of the proposed Avengers ensemble, including Chris Evans, Chris Hemsworth, Scarlett Johansson, Jeremy Renner, and Mark Ruffalo. If previous reports that these stars have banded together with Downey to negotiate for higher pay prove true, each of the Avengers could end up making far more than they did the last go around. Marvel's site declares it will be the venue for future casting news, but we're betting they'll be less than forthcoming on their stars' salaries for their upcoming slate.
What's still unknown is whether Downey and Marvel will mount an Iron Man 4. The third film's final moment's suggests that Tony's individual arc has come to a cozy close, but perhaps the next two Avengers sequels will present a new platform for a further Iron Man adventure. For now, let's celebrate by remembering some of RDJ's best moments as Iron Man so far:
Staff writer at CinemaBlend.
Your Daily Blend of Entertainment News
Thank you for signing up to CinemaBlend. You will receive a verification email shortly.
There was a problem. Please refresh the page and try again.