Robert Downey Jr. To Play Hugh Hefner?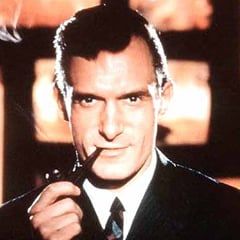 With the recent success of Iron Man, we've all been reminded that Robert Downey, Jr. has more sex appeal than the average human, and is capable of wooing pretty much anyone he damn well pleases. So who better to play the inventor of the swingin' bachelor lifestyle, the legendary Hugh Hefner? That seems to be the idea, with the Chicago Sun-Times reporting that Hefner himself has approved Downey to play him in the biopic Playboy.
The article says Hef saw Downey in Iron Man and admired "his humor and skill in showing his vulnerability." You can see why Hef felt like he was looking in a mirror while watching the movie, at least in the first half. You know he's the kind of guy who would be drinking a Scotch in a Humvee and would talk to his awesome robot friends.
Brett Ratner had originally been attached to direct the film but has since abandoned it; the article suggests that he might come back if Downey officially signs on, which makes perfect sense. Downey is the hot ticket in town right now, and who wouldn't want to be on board one of his movies? The only problem is that Ratner isn't remotely worthy of Downey's talents, and will probably try to make Playboy as loud and obvious as everything else he's ever done. Will it matter? Can Downey make the part his own even with a doofus behind the camera?
Downey's got the world at his feet right now, and even if he wants to get back to making independent movies at some point, this seems like a good role for him. He's got the kind of charm you can take to the bank, and that sounds like exactly what the makers of Playboy plan to do.
Your Daily Blend of Entertainment News
Staff Writer at CinemaBlend