Robert Downey Jr. Works For Ben Stiller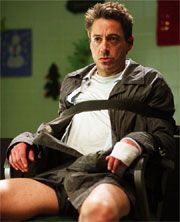 It's really starting to look like Robert Downey Jr. has kind of given up on the whole serious acting thing and decided to get disgustingly rich. The brilliant actor who starred in such films as Good Night, and Good Luck, Kiss Kiss Bang Bang, Wonder Boys, and Chaplin has thrown himself on his sword and lined up an upcoming slate of films which can only be described as well… surprisingly mainstream.
For instance his next movie is a superhero genre film. He's playing the lead in Jon Favreau's Iron Man movie. Once he's finished that, The Hollywood Reporter says he'll hop in his car and drive over to Ben Stiller's house to start preparing for his role in Ben's latest screwball comedy Tropic Thunder.
Tropic Thunder is the movie Tom Cruise was supposed to be considering doing with Stiller before they settled on making a Hardy Boys parody called The Hardy Men. It seems Robert Downey Jr. is stepping into his shoes. He'll play a world famous, acclaimed actor named Kirk Lazarus. The film is about the making of a big budget war movie that somehow goes so horribly wrong that its actors actually end up becoming the commandos they're supposed to be playing. Maybe there's a flux capacitor involved or something. Who knows.
The movie is co-written and directed by Stiller. Starring in the pic along with Robert Downey Jr. is Jay Baruchel as an unknown actor.
Your Daily Blend of Entertainment News