Robert Redford Confirmed For J.C. Chandor's All Is Lost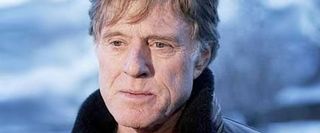 First-time filmmaker J.C. Chandor made a smashing debut at the Sundance Film Festival last year with his understated drama Margin Call, in part because of the expansive and extraordinary cast he'd pulled together for the ensemble piece. Kevin Spacey, Jeremy Irons, Simon Baker, Demi Moore, Paul Bettany, Stanley Tucci, Zachary Quinto and Demi Moore all brought their considerable talents to the tale, and this along with Chandor's topical exploration of the 2008 financial crisis has drawn the newbie writer-director plenty of buzz and even an Oscar nod for Best Original screenplay. Unsurprisingly, Chandor also earned the notice of Sundance founder Robert Redford, who was rumored in December to be in talks to star in his sophomore effort, All is Lost.
Today Deadline confirms Redford is set to star in the gritty drama, which will center on one man's efforts to survive when left adrift at sea. There's no word yet on how this poor wretch—to be played by Redford—comes to such a terrifying predicament, but Deadline does offer a curious revelation, calling Redford "the sole castmember" of All is Lost. Does this mean Chandor is actually jumping from a fast-paced ensemble drama to an inevitably slow-paced, singularly set solo-piece? That's a pretty big leap to make, but with Redford on board it's sure to draw interest. The question will be if All is Lost can maintain it.
Production on All is Lost is set to begin this summer in Rosarita Beach, Mexico, at Baja Studios. Lionsgate is set to distribute the film domestically, though a release date has not yet been announced.
Your Daily Blend of Entertainment News
Your Daily Blend of Entertainment News
Thank you for signing up to CinemaBlend. You will receive a verification email shortly.
There was a problem. Please refresh the page and try again.