Monty Python Members Reunite For Sci-fi Farce Absolutely Anything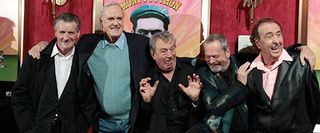 Time to dust off your favorite Monty Python's Flying Circus quotes. The groundbreaking sketch comedy show's surviving members, Michael Palin, John Cleese, Terry Jones, Terry Gilliam and Eric Idle, are close to reteaming for a science-fiction farce titled Absolutely Anything. The live-action comedy, which will be directed by Jones, will center on a man who becomes the plaything of a group of aliens that bestow upon him the power to do "absolutely anything." The Python boys will lend their voices to these scheming extraterrestrials, which will be CGI creations. Already Jones has gotten his Monty Python and the Holy Grail co-director Terry Gilliam on board, as well as Cleese and Palin. Absolutely Anything's producers are now working to sign Idle, and Jones has assured Variety:
Absolutely Anything producer Mike Medavoy also believes the Pythons will be a great fit for the giddy comedy styling of the film, comparing its sensibility to that of the Pink Panther movies of the 1970s, adding:
What we do know at this point is that aside from the human burdened by omnipotence, and this Frenchman Medavoy speaks of, the script, which has been under development by Jones and Gavin Scott for the last two decades, also includes a talking dog called Dennis, "who seems to understand more about the mayhem that ensues than anyone else does." While the producers have yet to cast the leads in this piece, American comedian Robin Williams is set to voice the talking dog and is in talks to play the Frenchman as well.
Admittedly this last bit of casting news dampens my enthusiasm about this production. Still, it's good to see Jones returning to directing features, as the helmsman of Life of Brian and The Meaning of Life has been largely absent from the film scene since 1996's Mr. Toad's Wild Ride, which garnered only a limited release. And while I'm sure many fans will lament the fact that the Python boys won't appear in the film, I am still hopeful their inclusion on this project means Jones' long-labored efforts have yielded something extraordinary.
If Idle does sign on, this feature would be the first time the surviving five members have shared the stage (so to speak) since 2009, when they made a brief but fan adored appearance for a Q&A following the premier of the documentary Monty Python: Almost the Truth (the Lawyer's Cut). Deceased member Graham Chapman was represented at the event with a large photograph, which drew less notice then his reported appearance at the troupe's 1998 reunion at the Aspen Comedy Festival, where the boys toted an urn that they insisted contained Chapman's ashes. It'll be interesting to see if/how Chapman may be included in Absolutely Anything, which is slated to go into production this spring.
Your Daily Blend of Entertainment News
Staff writer at CinemaBlend.