Robin Williams Has Fewer Movies Coming Up Than We Thought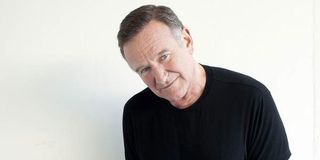 Following the unexpected and tragic death of Robin Williams, we began to not only take stock of the great performances he's offered over the decades, but also those we might still have to look forward to even in his absence. A few weeks back we reported how Williams might be cut from what would have been his last film, Absolutely Anything. Now we've learned he's not even in one that he's already been credited on.
Fans of Robin William have been taking some delight in seeing his blink-and-you'll-miss-him cameo in Terry Gilliam's latest dystopian adventure, The Zero Theorem. But when I mentioned the cameo to Gilliam himself, the director was confounded, denying it ever took place. He shook his head and insisted:
I was so stunned that all I could say was, "Really?" To which Gilliam teased good naturedly:
Below is the image of the on the street ad within The Zero Theorem that had me believing Gilliam's Oscar-nominated Fisher King star had popped by for a small role.
But I'm not the only one! Search for "Robin Williams Zero Theorem" and this very image pops up on various sites. Check IMDB and he's credited with this as screencapped below:
But Terry Gilliam says, "No, it isn't."
He did mention that in the assembly of actors who popped in to play talking heads in stalking adverts. He had Rupert Friend, Gwendoline Christie, Lily Cole, and long-time cast member Ray Cooper. Perhaps it's the 72-year-old English musician who is actually the Batman The Redeemer spokesperson?
With The Zero Theorem soon to be struck from Robin William's filmography, Absolutely Anything is now Terry Gilliam's last chance to reteam with him. In the sci-fi comedy helmed by fellow Monty Python member Terry Jones, Gilliam will voice an extraterrestrial alongside his former television co-stars. Williams did lend his voice to play a talking dog named Dennis, but his making the final cut was called into question when Absolutely Anything's star Simon Pegg suggested Jones might have needed more time with Robin for the record.
Absolutely Anything is due out in the UK next February, so we should know more on that story soon. In the meantime, see The Zero Theorem. Opening in theaters tomorrow, it's great even if it doesn't have a secret Robin Williams cameo.
Your Daily Blend of Entertainment News
Staff writer at CinemaBlend.
Your Daily Blend of Entertainment News
Thank you for signing up to CinemaBlend. You will receive a verification email shortly.
There was a problem. Please refresh the page and try again.