Robin Williams And Johnny Depp Wanted To Make This Demonic Movie Together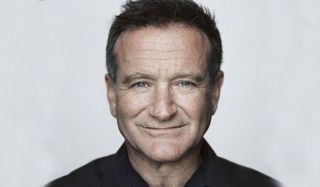 In the wake of the unexpected and tragic death of Robin Williams, producers of his most recent projects were left wondering how to either complete them in his absence, or promote them without their shining star. But among the many things we'll miss from this beloved funnyman is a reunion with Terry Gilliam for his would-be adaptation of Neil Gaiman's Good Omens. Gaiman himself reminded us all of this loss on Twitter.
Any fan of Terry Gilliam knows that his filmography is almost as defined by those he's made as it is those he hasn't. Among his success are 1991's Academy Award-winning dramedy The Fisher King, which earned Robin Williams his third Oscar nomination. Over ten years later, Gilliam was hot to reteam with Williams, wanting him to headline Good Omens alongside Johnny Depp. But this was never to be.
The novel, co-written by Neil Gaiman and Terry Pratchett, centers on the coming of the End of Days. But there is an unlikely duo who wishes to prevent the Armageddon, having grown accustomed to their lives on Earth. That'd be rare book seller/angel Aziraphale, and his demon cohort Crowley. Rumors have long insisted that Gilliam wanted Depp, who would have been coming off the biopic Blow and the Jack the Ripper thriller From Hell, for the part of the less than devilish demon Crowley. Williams was said to be considered for the role of the bibliophile Aziraphale.
Unfortunately, as is often the case with Terry Gilliam's unconventional brand of films, Good Omens struggled to secure funding. Eventually, it was shelved indefinitely. Of course, Gilliam is nothing if not tenacious. As late as 2006, he'd admitted hopes to get the adaptation back on its feet. Of course, he's also still attempting to remount another Johnny Depp vehicle, The Man Who Killed Don Quixote. The destruction of that production was dedicatedly and heartbreakingly revealed in the documentary Lost in La Mancha.
Perhaps the current surge in Neil Gaiman's movie cache could come in handy in Gilliam's efforts to revive Good Omens. After years of wavering, Gaiman's Sandman comics are earnestly being developed into a vehicle for Joseph Gordon Levitt to direct. Meanwhile, celebrated helmer John Cameron Mitchell is transforming his short story How to Talk To Girls At Parties into an ethereal coming-of-age sci-fi adventure. And just last week Steven Spielberg got on board to produce an adaptation of Gaiman's yet-to-be-released graphic novel Hansel And Gretel.
Even with the loss of Robin Williams, everything coming up Gaiman could be a good omen for Good Omens.
Staff writer at CinemaBlend.
Your Daily Blend of Entertainment News
Thank you for signing up to CinemaBlend. You will receive a verification email shortly.
There was a problem. Please refresh the page and try again.