The Rock Will Sing Country Music As Charley Pride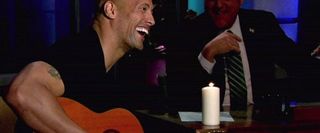 The Rock is set to follow in the recent footsteps of such acting luminaries as Jeff Bridges and Gwyneth Paltrow by playing a country singer. In particular, he's set to play famed black artist Charley Pride. It was either that or Hootie from Hootie and the Blowfish (yes he's doing country music now).
So why would anyone want to make a movie out of Charley Pride? Here's a good reason: He sang country music back in the 60s and 70s, in the days when it wasn't easy for a black man to do anything in this country, let alone sell music in a genre mostly loved by good old boys and rednecks. He also played professional baseball earlier in his life. There's plenty to mine in there, somewhere.
As for The Rock, at least he's not doing another babysitting movie. I had hoped that Faster would finally get him back on track to being a serious action star, but Faster was terrible and tanked at the box office to boot. He's playing the bad guy in Fast Five this weekend and that's probably about as close as we're ever going to get now, to seeing Dwayne "The Rock" Johnson as an action star. Might as well see if he can act. Actually I'm pretty sure he can act, but can he play a guitar? Can he sing? The answer, it would seem, is yes. In fact, he's really good. Here's a clip of Dwayne doing both on Leno:
Your Daily Blend of Entertainment News
Thank you for signing up to CinemaBlend. You will receive a verification email shortly.
There was a problem. Please refresh the page and try again.