The Rock Wears A Lion Pelt And Destroys A Car In Two New Set Photos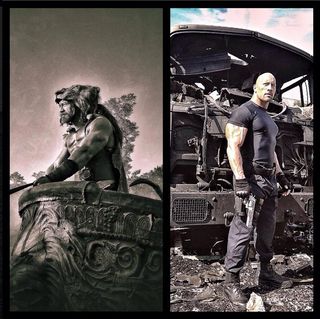 Which Rock do you like the best-- the one driving a chariot into certain battle on the set of Hercules: The Thracian Wars, or the one standing in front of the wreck of a car he probably tore apart with his bare hands on the set of Fast & Furious 7.
It's a trick question, of course. Picking your favorite Rock is like picking a favorite ice cream flavor-- it varies based on the day and your mood, and what variety of ass-kicking you want to see handed to which variety of villain. As unlikely as it is that a Samoan ex-wrestler has become the most all-purpose movie star on the planet, it's true-- so long as there's an opportunity for him to throw a punch or at least flex a muscle, The Rock is pretty much a one-size-fits-all proposition. And because nearly everything he's done in the last few years has turned to gold, we get to see him doing a lot more of it in the coming years.
First up will be Fast & Furious 7, the new installment of the miraculously successful Fast franchise that brought the gang to London with the most recent installment and began The Rock's reputation as "franchise Viagra" by bringing him in for the series high point Fast Five. Fast & Furious 7 won't be directed by Justin Lin, who handled the last four installments, but is being taken over by James Wan, the mastermind behind the Saw series and this summer's The Conjuring. Will Wan be able to keep the life in a franchise that has become so surprisingly successful? If he's got The Rock beating up cars like the one in this picture, he's at least got a good start.
Only two weeks after Fast 7 debuts comes Hercules: The Thracian Wars, which I will know now as "the movie in which The Rock wears a lion pelt on its head." Directed by Brett Ratner and co-starring the likes of Ian McShane, John Hurt and Ralph Fiennes, it's clearly the higher-profile of the two competing Hercules movies, with the other one starring Twilight hunk Kellan Lutz. This Hercules didn't really need The Rock to wear a bearskin to get a leg up, but we can at least be grateful they did it anyway.
Staff Writer at CinemaBlend
Your Daily Blend of Entertainment News
Thank you for signing up to CinemaBlend. You will receive a verification email shortly.
There was a problem. Please refresh the page and try again.