When In Rome Trailer Paints Kristen Bell In The Nude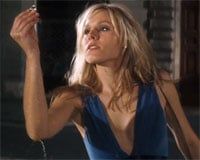 The very strange first trailer for Kristen Bell's When in Rome is online. The narration is a little bit Sex and the City, the movie feels a lot a bit 80s, and the soundtrack seems designed mainly to sell records for artists nobody has ever heard of. In spite of that, Bell is cute and it's hard not to get a little Marissa Tomei vibe whenever she shows up on screen.
Here's the official synopsis: When in Rome is about an ambitious young New Yorker (Kristen Bell), disillusioned with romance, takes a whirlwind trip to Rome where she defiantly plucks magic coins from a fountain of love, inexplicably igniting the passion of those who threw them in: a sausage magnate (Danny Devito), a street magician (Jon Heder), an adoring painter (Will Arnett) and a self-admiring model (DAX SHEPARD). But when a charming reporter (JOSH DUHAMEL) pursues her with equal zest, how will she know if his love is the real thing?
Watch the trailer below or in HD on Yahoo.
Your Daily Blend of Entertainment News