The Ronda Rousey Biopic Better Be The Most Brutal, Badass Sports Movie Ever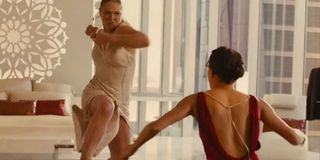 This past Saturday in Brazil, UFC Women's Bantamweight Champion Ronda Rousey defended her belt in a dominant, 34-second pummeling of challenger Bethe Correia. There was an unprecedented amount of media coverage for a mixed martial arts events, a testament to Rousey's increasing profile and popularity, and with a burgeoning acting career, her next project will be very personal, as she is set to star as herself in an adaptation of her autobiography.
Paramount Pictures recently acquired the rights to My Fight/Your Fight, Rousey's best-selling memoir, and Variety reports that the 28-year-old former Olympic judoka, who has quickly become the biggest star in the UFC, will play herself. Rousey will also produce, along with Mary Parent (Pacific Rim), and Mark Bomback (Live Free or Die Hard and the recent Planet of the Apes movies) is on the clock to write the screenplay.
Ronda Rousey's story has all of the elements in place to make for a riveting feature film. There's tragedy, obstacles, the drive to be the best, and beating the living shit out of people. Her father committed suicide when she was eight years old (if you followed the buildup to her fight last weekend at UFC 190, this fact played heavily into the narrative as her opponent may have taken the trash talk a wee bit too far, indicating that Rousey might kill herself if she lost). Trained by her mother, herself a world champion judo practitioner, Rousey went on to compete in multiple Olympics, medalling once, before becoming perhaps the most dominant champion in combat sports.
Rousey has parlayed her success in the Octagon into a lucrative career outside as well. Never one to shy away from speaking her mind and saying what she thinks, she has become the face of numerous products and services, she has already appeared in three movies—The Expendables 3, Furious 7, and Entourage—with more on the way. According to report, when the rights for the book went on the market, Rousey immediately expressed interest in playing herself.
Next up on her cinematic docket is the Peter Berg-directed actioner Mile 22, scheduled to shoot in January, where she'll costar with The Raid's Iko Uwais and play a CIA officer who teams up with an Indonesian cop to battle political corruption. She's also attached to Warner Bros.' The Athena Project, though there aren't many details available about that one aside from the fact it's, surprise, an action movie.
Right now there's no timetable for when we'll see My Fight/Your Fight on the big screen. Rousey will most likely fight one more time before the end of the year (probably a trilogy match with Meisha Tate, but fingers crossed the Cyborg fight somehow magically materializes), and Bomback reportedly just started the adaptation process. So don't expect it too soon.
This will easily be Ronda Rousey's biggest on-screen role, and will ask her to do some things she hasn't had much call do up to this point. Most of her parts involve lots of action and fighting, which is what she's best at, while this one will require her to show off different sides of her acting skill set. But she's always up for a challenge. However, and whenever, this shakes out, it should be one badass inspirational sports movie.