Ronda Rousey Offered Superhero Role In Porno, Get The Lucrative Details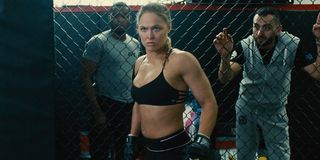 After expressing her desire to play Captain Marvel in the upcoming Marvel movie, Ronda Rousey is getting her chance to play the strongwoman with half-Kree, half-human DNA. The sad part, though, is that it's not at all what she had in mind. In fact, it's the far, far opposite. The MMA star and part-time actress was offered a ridiculous amount of money to star in the Captain Marvel porn parody.
TMZ Sports reports that Rousey, who recently made headlines for besting her latest opponent, Bethe Correia, in the ring, was offered $5 million to star in Captain Marvel XXX: An Axel Braun Parody. According to the adult film producer, this payday would cover three sex scenes and two weeks of shooting, which implies that there's a lot more dialogue in this one than you might expect from a porno.
You know what we hope Ronda does with this offer? Shove it down Braun's throat. The producer reportedly asked for forgiveness in the offer letter, but a piece of paper won't protect him from the likes of "Rowdy" Rousey.
Aside from the fact that this Captain Marvel porno is a total violation of the feminist ideals the character has come to represent, Rousey isn't looking far for her next paycheck. Since beating Correia, she's become the new face of Carl's Jr. — she recently filmed a commercial for the cinnamon swirl french toast breakfast sandwich, which likely means hefty compensation. She's also set to star in a movie about her own life based on her best-selling autobiography My Fight/Your Fight. Paramount recently secured the rights to the project that is being adapted by Mark Bomback, who worked on the screenplays for The Wolverine, Dawn of the Planet of the Apes, and the upcoming War of the Planet of the Apes.
This biopic will further expand Rousey's growing list of film roles. Her first part was as herself in the 2009 Judo film American Judoka, and she popped up in The Expendables 3. Rousey also kicked Michelle Rodriguez's butt in Furious 7, and knocked out Jerry Ferrara in the Entourage movie, again playing herself.
The Captain Marvel talk stemmed from a recent Reddit AMA with Rousey, in which the athlete was asked what superhero she would like to portray. She said:
Since then, Rousey has been casually campaigning for the role on social media. She posted a slew of fan-made images of herself suited up as the character. Disney and Marvel Studios have yet to announced an actress for the role, and the film is scheduled for release on July 6, 2018.
Long story short, Rousey doesn't need Braun's money.
Your Daily Blend of Entertainment News