Rooney Mara's Secret Role In The One I Love Revealed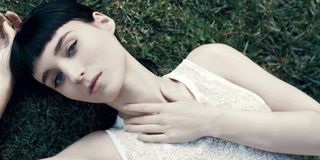 The intriguing indie The One I Love is earning plenty of buzz for its central secret. Even after its rousing world premiere at the Sundance Film Festival, critics raved about this inventive take on romantic comedies, yet wouldn't expose the clever cut-up's sly secrets. However, without spoiling anything, we can tell you one of the secrets even those who've seen the film have missed.
Just yesterday, I had a chance to sit down with The One I Love's director, Charlie McDowell, to talk about his feature directorial debut. We'll give you a fuller picture of that conversation closer to The One I Love's theatrical release, but in the meantime we'd like to share the secret of Rooney Mara's involvement in this Sundance darling. Though she's not one of its stars, The Girl With the Dragon Tattoo stunner took on a pivotal role.
The cast is reported as being made up solely of Mark Duplass, Elisabeth Moss and Ted Danson. They play an unhappy married couple, and their marriage counselor. But watching the film, I was struck how the costumes of these characters felt like characters in their own right. So, I asked McDowell about them, expecting just that--details about the costume choices. Then he surprised me by telling me Rooney Mara was the film's costume designer, though she's credited under the pseudonym Bree Daniel. Below, you can see how this led to an unexpectedly awkward moment.
Charlie McDowell began by speaking about his "girlfriend," an unnamed actress who wanted to help out in the film in a way she felt she'd be well suited. (Spoiler: she is!)
At this point, I asked for his girlfriend's name, in case the costume designer's credit wasn't readily available. McDowell grew bashful instantaneously, I soon realized why.
"Well, she goes by a pseudonym on the movie, but..." He hesitated. "So, my girlfriend is Rooney Mara, who is an actress. We didn't want to credit Rooney Mara, costume designer. So she's Bree Daniel on the credits."
Right. He's dating Rooney Mara. Some corner of my brain knew that at some point.
McDowell clarified he's proud of Mara's work on The One I Love, but wasn't sure how to answer the question about her name at first, because if he gave the pseudonym, it might start a gossip cycle that he's running around on Rooney Mara…with her own pseudonym. Celebrity can be complicated.
The One I Love (opens in new tab) is now on iTunes, and opens theatrically on August 22nd.
Staff writer at CinemaBlend.
Your Daily Blend of Entertainment News
Thank you for signing up to CinemaBlend. You will receive a verification email shortly.
There was a problem. Please refresh the page and try again.