This Rotten Week: Predicting 42 And Scary Movie 5 Reviews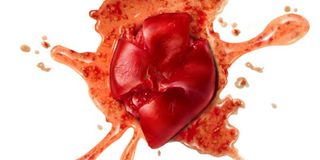 I think I'm going to throw it out there and hope I don't jinx anything: Spring is here. F@#$ing finally. Mother Nature's been jacking me around for a few weeks now, but I think we've cleared winter's last hurdle. What better way to revel in the sunshine than by sitting in a theater checking out this week's flicks. We've got Jackie Robinson and another Scary Movie.
Just remember, I'm not reviewing these movies, but rather predicting where they'll end up on the Tomatometer. Let's take a look at what This Rotten Week has to offer.
42
I love baseball. I know a lot of people say this and sort of mean it, or think it sounds quasi-patriotic, or become infatuated with the idea of Americana behind the game so they claim it as truth. But this writer isn't like those folks. I love baseball so much that my productivity hits a noticeable to severe decline between the months of April and October. I love the stats, the slow pace, the chess match quality of at bats, my Red Sox and all seven of my fantasy baseball teams. I tell you this not to brag, but rather to hedge, because as much as I love baseball, this new movie about a transcendent time period in the game (and in our country) seems completely underwhelming.
The story of Jackie Robinson's entrance into the major leagues as the first African-American player is a cultural touchpoint, woven into the very fiber of our ugly history with segregation. And yet the trailers for this movie have left me completely emotionless. I'm not sure if it's how the filmmakers have transposed the 1940's onto the big screen. Maybe its the disconnect of Jay-Z playing over the top of old time-y footage. Or it could be a feeling that the movie won't be willing or able to drill all the way down to the disgusting racial overtones rampant with Robinson's entrance on to the national stage (not to say they won't try, I just don't think they'll be able to). This last piece is what's really needed to tell the full story of Robinson's arrival into basbeall, and yet I get the feeling the movie makers will sidestep it ever-so-slightly in an effort to make it a "family" movie. Hence the PG-13 rating.
Director Brian Hegleland won an Oscar for L.A. Confidential's screenplay. He also adapted Mystic River. Which is all well and good. Though I'd contend he did way with some of that artistic goodwill by giving us The Order (9%). The rest of his career (mostly writing) has been a mixed bag with many of his efforts hovering near the fifty percent mark. I think his latest follows that trend. There are critics who will see the movie as an uplifting hero's tale while others will leave disappointed the movie put a semi-gloss over the "real" story. The Rotten Watch for 42 is 46%
Man I was super tempted to just copy and paste my write up for A Haunted House and plug it in here after making a one or two small tweaks. Would anyone have noticed? I mean, it is essentially the same movie as this one right? Spoof horror flick, playing on the Paranormal Activity franchise. Random celebrities. Hack jokes. Punchlines even the non-discerning eye can spot coming a mile or two away. Shameless really. I wouldn't have been shocked to see Marlon Wayans in this flick too. Hell, he was in Scary Movie 2. Why not just do both films? Jesus, maybe they are the same film and we have all become too out of it and self-absorbed that we wouldn't even be able to tell, or worse, even notice.
At one point David Zucker had something of a hot streak with the spoofy comedy. He owned the 80s giving us Airplane (98%), Top Secret (76%) and Naked Gun (88%). But the comedic well started to dry up for him in the early 90s with Naked Gun 2 1/2 (53%) and BASEketball (42%). Now he's entered the dry, cracked, decrepit part of his career with Scary Movie 3 (37%), Scary Movie 4 (36%), and An American Carol (11%). What do you want? It's tough to be funny over the long haul. Zucker's proof positive. His latest will nothing to correct the tailspin. This movie looks horrendous. The Rotten Watch for Scary Movie 5 is 12%
This poll is no longer available.
Recapping last week:
With only one movie on the docket, Evil Dead (Predicted: 71% Actual: 64%), it was nice to make it a little win. As I speculated, the score dropped a fair amount over the week. This was partially aided by Kristy Puchko's review. She completely hated it. Fine by me, I don't watch scary movies. If they're bad, good. The less things going bump in the night the better.
The majority of critics though felt Fede Alvarez's remake of the Sam Raimi classic did the original justice. Still no fan of the reboot/ remake though. Just think they're the height of creative apathy.
Next time around we head to oblivion. It's going to be a Rotten Week!
Doug began writing for CinemaBlend back when Terminator: The Sarah Connor Chronicles actually existed. Since then he's been writing This Rotten Week, predicting RottenTomatoes scores for movies you don't even remember for the better part of a decade. He can be found re-watching The Office for the infinity time.
Your Daily Blend of Entertainment News
Thank you for signing up to CinemaBlend. You will receive a verification email shortly.
There was a problem. Please refresh the page and try again.