This Rotten Week: Predicting African Cats, Water For Elephants, Tyler Perry Reviews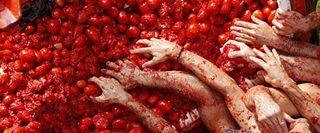 Hello Rotten Week-ite(s). Good to have you guy(s) back! And what a week it is, what with lions roaming the safari, elephants stampeding folks and Tyler Perry subjecting innocent people to his particular brand of crap. Coming off a strong prediction for Scream 4 we need to keep the good times rolling.
Just remember, I'm not reviewing these movies, but rather predicting where they'll end up on the Tomatometer Let's see what This Rotten Week has to offer!
Water for Elephants
Water for Elephants was one of those books, that kept making me think, "Man I wouldn't mind seeing this as a movie." I mostly thought that because, as a book, it was equal parts hack writing, schticky and boring. Those are the kinds of books I want to see on the big screen, because reading them is a f#$%ing drag.
But I think I was right because as a movie it looks fairly watchable. After all, it's two hours of circus folks going about their circusy lives in some undisclosed bygone era that I'll just label as "the past." Not sold yet? Well it also stars Academy Award Winner Reese Witherspoon, Academy Award Winner Christopher Waltz, and Academy Award Presenter Robert Pattinson. (And I bet that handing off the statue to an actual actor is the closest Pattinson will ever get to winning an Oscar).
But all, not-really-kidding, aside, director Francis Lawrence (I Am Legend - 69%, Constantine - 46%) appears to have made, if nothing else, a visually strong movie. Granted, great cinematography does not a great movie make, but the source material is at least an intriguing story (man runs away with circus, elephant runs over people). While Pattinson's inclusion doesn't do it any favors, the rest of the cast is strong and Lawrence has successfully adapted one book already (even if he completely changed the story, characters, setting and really just kept the title and the vampires.)
And while I don't imagine critics to make this the movie of the year, I suspect it ends up on the right side of the Tomatometer. The Rotten Watch for Water for Elephants is 60%.
African Cats: Kingdom of Courage
Remember when little Simba fought off Scar in an epic battle over the right to rule the entire African landscape and "Hakuna Matata" rang across the safari? The circle of life and all that jazz. Well, seventeen years later it appears we'll get the chance to see the live action version of The Lion King although I suspect in this flick characters like Rafiki and Zazu stand a much bigger chance of just being mauled and eaten by the lions rather than befriending them. Isn't nature awesome?
From a critical standpoint, throwing some HD cameras out there to film a bunch animals going about their everyday life is a surefire way to have reviewers flipping over their seats in joy. There's no reason to think African Cats will fare any differently than other nature movies. Disneynature's other films Oceans (80%) and Earth (87%), scored high ratings for their stunning visuals, nature-conquers-all story lines, and unbelievably literal titles. Actually, if you can believe it, African Cats is the most ambiguously titled selection in the film label's library. The other two I didn't mention were Penguins and the surely riveting Pollen.
Narrated by Samuel L. Jackson (a pretty hip cat in his own regard), this documentary scores high with critics almost without a doubt. Now if we can just get Elton John in the background singing his heart out about how much lions and cheetahs love their babies, we'll be golden. The Rotten Watch for African Cats is 82%.
Tyler Perry's Madea's Big Happy Family
Any time someone has the chance to use a double possessive in a title, they have to do it right? In fact, I'm thinking about renaming this column "Doug Norrie's Rotten Week's Critical Prediction Machine." Has a nice ring to it.
I mean, obviously this movie is going to be a critical mess and we don't need to spend much time on why. Just about every time Tyler Perry writes and/or directs and/or acts in and/or thinks about a movie, it blows. That's one of those hard and fast rules someone like me in the biz (and by "in the biz" I mean "on my couch") learns when taking hard looks at the Tomatometer. If the trailer is any indication, 3/4 of the jokes in this movie center on Madea slapping someone (children included: nice message).
Instead of going through Perry's resume, I'll offer you a challenge to determine if you deserve to occupy the same space as normal, functioning human beings. Here's the challenge: If you haven't already, watch the trailer. Don't read the next sentences until you do. Go, now.
Okay. If you stopped it within the first thirty seconds because you found it unwatchable, congratulations, your brain is still active and agile. If you watched the whole thing but hated it, that's fine, although you may want to seek some counseling if you've got the spare time. If you watched the whole thing, laughed once or twice and generally can't wait to see this movie, then I'd like you to immediately contact these folks. They've probably got a study or two you can take part in. The Rotten Watch for Tyler Perry's Madea's Big Happy Family is 17%.
This poll is no longer available.
Recapping last week
Scream 4 (Predicted: 55% Actual: 57%) was a huge win for the Rotten Watch, and even stands an outside shot of eventually settling in as a perfect hit. I just need to get a couple of more reviewers out there to hate it. I'll update this one later, if for no other reason than I like to be right (increasingly less rare). What's most encouraging about this score is how much better it is than the third installment's 37%. Not only is it difficult for a franchise to get better with age, it probably means the movie is much better than critics even gave it credit for. It's tough to impress reviewers the fourth time around.
And then there's the case of Rio (Predicted: 87% Actual: 71%). I find this to be one of the most interesting scores in quite awhile for reasons that may or may not be complex. Consider when I first wrote my prediction Rio sat at 86% after thirty-six reviews. That's a decent enough sample size and I made my prediction accordingly.
But then over the next eighty-one reviews, only 64% of critics gave it a "fresh" rating. That is a fairly large difference in opinions which begs several questions. What happened? Were the initial reviewers those more likely to enjoy the film? Did the studio cherry pick critics they thought would like it? Did the buzz just start skewing the other way? Am I the only one who finds this interesting? Probably "yes" to all of the above.
Next week Superman goes horror, Domenic Torretto ponders rising gas prices in regards to his favorite pastime, we get an animated sequel that literally no one is dying to see, and we all head to the Prom. It's going to be a Rotten Week!
Your Daily Blend of Entertainment News
Doug began writing for CinemaBlend back when Terminator: The Sarah Connor Chronicles actually existed. Since then he's been writing This Rotten Week, predicting RottenTomatoes scores for movies you don't even remember for the better part of a decade. He can be found re-watching The Office for the infinity time.